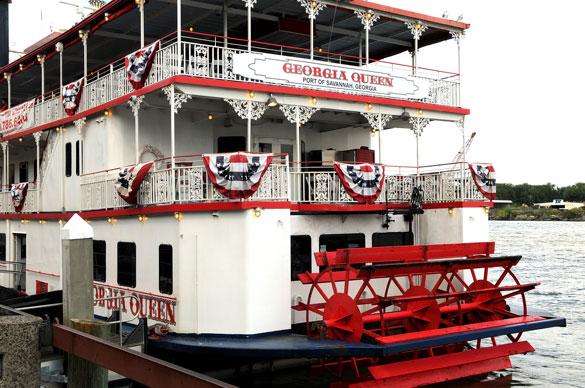 License: Creative Commons image source
Thanksgiving does come only once a year; that's why instead of just saying "Thank you" to your loved ones, Thanksgiving weekend is a great opportunity to go out and have the time of your life. A great vacation will be somewhere with just a nice whiff of breezy temperature with less of the biting autumn cold. Therefore, we recommend traveling to the south in Savannah, Georgia.
Tourists have an exhaustive list of things to love about the historic city of Savannah, especially as you walk through its oldest streets that will take you to the Victorian times. Here are some weekend tour suggestions that will make you love the charm of the south even more.
Savannah Riverboat Cruises
Who says spending time in a boat is boring? The Savannah Riverboat Cruises will keep you on your toes with all its sightseeing activities, Thanksgiving dinner, and live entertainment. Religious gatherings are also welcome on the cruise with its Sunday morning gospel and brunch.
Whatever your preferences are, there is a cruise that will fit your Thanksgiving plans perfectly. From November to December, you can choose from three cruise options: Savannah Riverboat Harbor Sightseeing Cruise, Savannah Riverboat Dinner Entertainment Cruise, and Savannah Riverboat Holiday Gospel Cruise.
Savannah is known for its rich, winding history and what better way to learn more about its past at the Historic Savannah Trolley Tour. The 90-minute guided tour takes you to the culturally significant areas around the city, such as River Street, Sorrell-Weed House, Colonial Cemetery, Cathedral of St. John the Baptist, and Forsyth Park. If you want to stop and explore an area, you can simply hop on and off the trolley for the entire day and you don't have to miss a thing!
Savannah Foody Tour
Available now until the end of the year, the Savannah Riding Tour not only lets you explore Savannah's Historic District, but also taste the unique culinary flavors of the city. Choose from either the Riding Foody Tour or the Walking Foody Tour; both last for two hours, but the former takes place in an air-conditioned bus.
Simply pay for the ticket and all the food items are already included. All you need to do is relax, enjoy the view, and savor the goodness of the local cuisines from seven restaurants and specialty food places, one of which is Paula Deen's Lady & Sons. Note, however, that the other six venues change every day.
Who said Halloween is over? Savannah bleeds history—and also of haunted houses. The Ghost Trolley Tour lasts for 2.5 hours and will take you to the popular paranormal finds, including Wright Square, which is said to be haunted by the ghost of Alice Riley, the first woman sentenced to death in Savannah. Another spooky hotspot is the Pirates' House, said to be the oldest standing building in Georgia, and is now a well-visited restaurant. However, no one has forgotten its sordid past, where it used to be an inn and tavern for seamen and sailors—many of them went missing and were said to be killed or turned to slaves.
Andrea Barnes is a contributing blogger for Presidents' Quarters Inn. She collects fridge magnets from all the states she has visited since she moved to the United States in 2012. She is now a proud owner of six magnets.