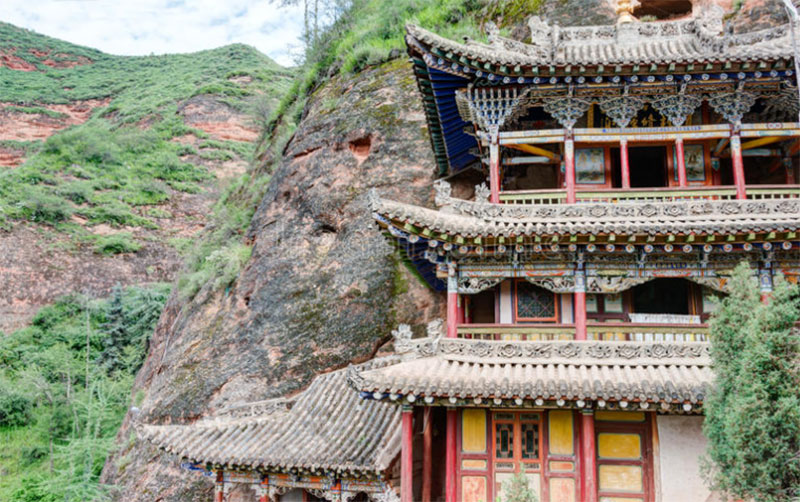 The Shazong Ritod Monastery is a famous Monastery located in Sitai Township, 28 kilometers to the south­ west of the county seat of Ping'an Qinghai, China. Built in the Yuan Dynasty (1271-1368), the temple was where Tsongkhapa, the founder of the Gelug Sect of Tibetan Buddhism, was initiated into monkshood at the age of three.
In 1359 a well-known Tibetan monk sent Rolpe Dorje, the Fourth Karmapa, or the Living Buddha, to pay a visit to the emperor of the Yuan Dynasty in Dadu, the capital of the Mongolian Empire. On his way to Dadu, Rolpe Dorje stayed in the temple.
A famous shrine of Tibetan Buddhism, the temple enjoys a great reputation in Qinghai Province. Many noted monks in Qinghai have practiced Buddhism there. At its zenith, the temple had more than 400 halls and rooms for monks. It was built on a mountain, with spectacular grottos in the mountainside.
The Pavilion of the Eight Diagrams, built under the reign of Emperor Qianlong (1736-1796), rises high behind the scripture chanting rooms. It is a good spot to watch the surrounding landscape.
Hope you enjoyed reading about "Shazong Ritod Monastery". Please do share your thought in the comment section below.