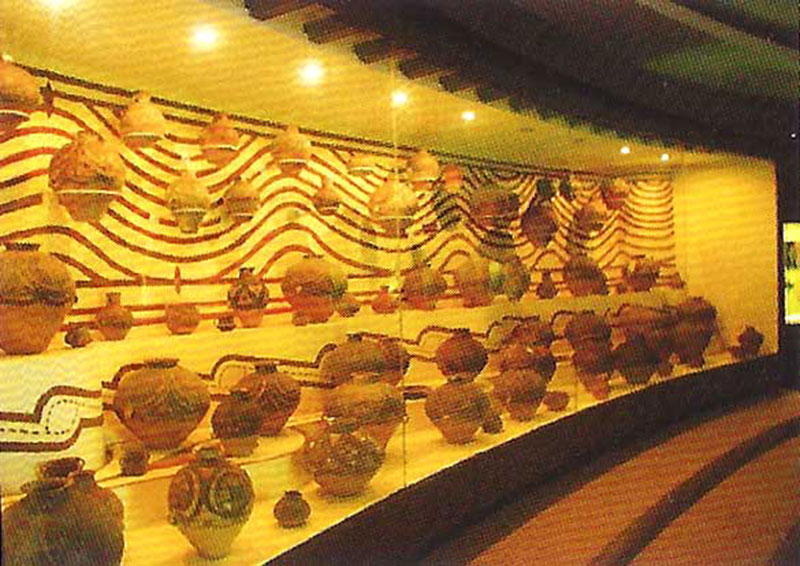 Liuwan Colored Pottery Museum: The museum is located to the north of Liuwancun Village, Gaomiao Town, Ledu County, 77 kilometers from the urban area of Xining. The museum sits on the site of a cemetery from the late Primitive Society, dating back to about 4,000-7,000 years ago. It is the largest painted pottery museum in China. The museum was opened in 2004 and has a collection of 37,925 objects, many of which are from the Neolithic period from Liwan tombs.
In the spring of 1974, a large amount of colored potteries were unearthed on the site, including those of the Banshan, Xindian and Machang branches of the Majiayao Culture and those of the Kayue Culture. The pottery objects unearthed there surpass those unearthed from the Yangshao Culture ruins in Banpo, Xi'an, both in number and variety.
Ledu County has unearthed the largest number of colored potteries in Qinghai Province and the neighboring Gansu Province. These colorful potteries feature complicated pat­ terns, unique styles, neat shapes, exquisite designs and symmetrical structures, reflecting very high atheistic level of that time. Housing nearly 20,000 pieces of colored pottery, the museum is the largest of its kind in China.
Hope you enjoyed reading about "Liuwan Colored Pottery Museum". Please do share your thought in the comment section below.