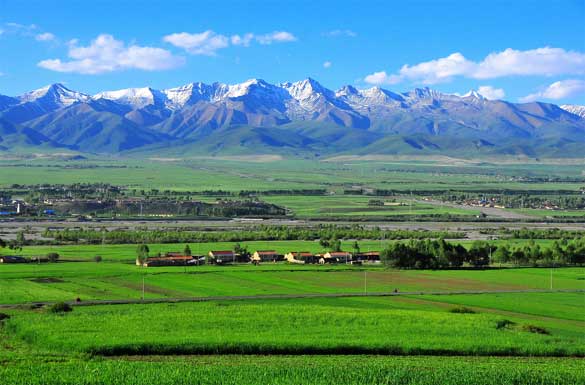 MenYuan 門源, Qilian Mountain – Photo Credit: Michael Wong
The Menyuan-Qilian sightseeing route features enchanting scenery south of the Qilian Mountains, and displays the grandeur and great beauty of Qinghai Province. The vast Qilian Mountains nourish the Datong River Valley, Huangshi River Valley and the Qinghai Lake basin. In the dense forest of pines and cypresses live dozens of species of wild animals, such as deer, lynx, snow cock, wild donkey and snow leopard.
The magnificent, snow-capped Qilian Mountains are as picturesque as the Alps, and the rolling Qilian Grassland is as broad as one in Australia. In Menyuan County, a vast stretch of land covered with a golden sea of rapessed blossoms presents a unique natural sight on the plateau; the ancient Silk Road links the Qilian Mountains with the Hexi Corrider, and the exotic local folk customs give visitors much pleasure. Major scenic attractions along the route are found in Menyuan County, the Qilian Mountains and Huzhu Country in Haidong Prefecture.
Huahai Mandarin Duck

Huahai Mandarin Duck
Huahaizi Lake is 65 kilometers north­ west of Chengguan Town, Menyuan County. Also known as Luanhaizi, Taixing Spring, or Jinquan Spring. it is one of tho eight ancient tourist attractions in Menyuan. The lake, sur­rounded by hills resembling a lotus flower with eight petals, collects water from 108 springs nearby.
The Kashigang Snow Peak casts its shadow in the lake, which looks like a mirror on the snow-covered plateau. Herds of cattle and sheep feed on lush pastures in the wetland around the lake, and various birds have fun on the lake. The lake is especially famous for mandarin ducks swimming in pairs on the water.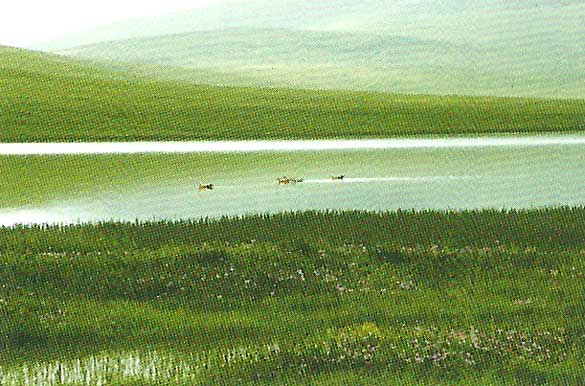 Huahai Mandarin Duck