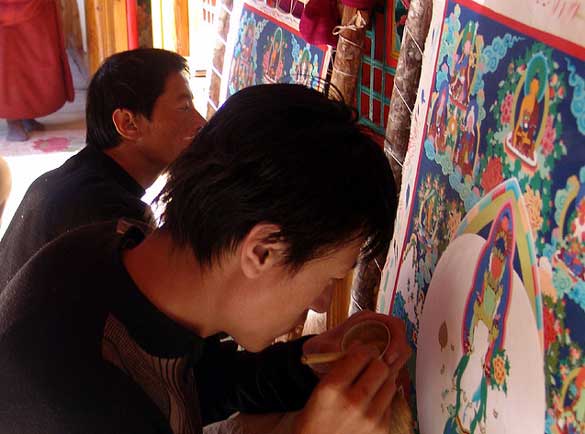 Photo Credit: Jim Gourley
By the bank of the Longwu River that runs through the beautiful and rich Tongren County lies a golden valley called Regong, a land of art well known both at home and abroad. It is the only place of historical and cultural interest in Qinghai Province that is under the protection of the Central Government, boasting 12 cultural sites under the state or provincial protection. The tourist zone also sponsors programs such as the "June Fair" of the Tibetans and the "Yumian Dance" of the Tuethnic group.
The "Regong Art" is a unique art form blending the northwestern indigenous cultures with Buddhism art from China's Central Plains. An important school of Tibetan art, the "Regong Art" includes painting, sculpture, architectural decoration and barbola.
It has high artistic, aesthetic and collection values, and is honored as "a dazzling pearl in the treasury of ethnic minority art."
Transport: Take a long-distance bus from Xining for Huangnan Prefecture, crossing the Yellow River, passing through the 20-kilometer-long Longwu Vally to reach Longwu Town in an open area near the valley. The ride covers181 kilometers and takes about four hours.