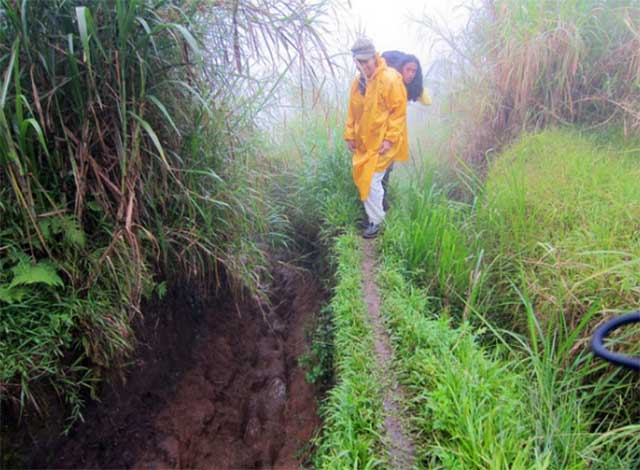 Photo Credit: Cirilo Albert Hicban
Mt. Apo is the tallest mountain found in the Philippines. This is why countless hikers from all over the world decide to conquer it every year. I and several friends decided to embark on such journey last January and the experience thought me a lot. It was never easy and we ended up facing a number of troubles along the way but it was undeniably the best hike I ever had.
There are various ways to start hiking towards the top of Mt. Apo. We decided to start at Agko Springs near Kidapawan since we received various comments that it's easier compared to the Calinan trail. It's the best route for us given some of my friends who came along don't have any experience about hiking. Climbing Mt. Apo is physically challenging so it's imperative for you to prepare your body beforehand. The hike was not technical but it's far from being easy. Rain and cold are your worst enemies so don't forget to bring a raincoat and jacket. Majority of those who tried but failed to conquer Mt. Apo suffered from Hypothermia so come up with a comprehensive plan to cope with this problem.
In average, a roundtrip at Mt. Apo from the Agko hot springs will cost you three days. Although doing it in just two days is possible, we decided to follow a slower pace to avoid excessive fatigue and accidents. Mark, one of my friends who tagged along, already climbed Mt. Apo for a couple of times. He encouraged us to only bring a liter of water since sources of clean drinking water are located along the trail. He also led us to a safer path saving from accidents and exerting unnecessary effort. Aside from breathtaking sceneries, we encountered a number of rare birds and animals, along the way. Our interesting finds somehow helped us forget how tired we are. Night fell and we decided to camp on Lake Venado. It's basically a swamp one a leveled area which is why majority of hikers consider it as a perfect camping site. Mark briefed us that we should take turns to guard our camp from snakes and other threats. Bringing the portable solar panels. I recently purchased online was not a bad idea after all. Though it added some weight to my baggage, the electricity it gathered helped maintain our camp fully lighted. It gave us enough confidence to rest and prepare for next day's challenging hike.
We got up at 4 am, packed our camp, and started hiking. Our aim was to reach the volcano's peak. Mark told us to slow down and take more breaks so it took us almost 8 hours to finally achieve our goal. Night fell down without us even noticing. It was a lucky break that our flashlights were still at optimum power due to the portable solar panels I brought. Thanks to my handy device, we reached the campsite Mark told us about safely which is just a few kilometers away from the famous mountain's peak. A majestic view of the sunrise greeted us the next day. We were all tired that time but the sceneries that surrounded us worked like instant painkillers. We took several pictures and enjoyed the great feeling of satisfaction. Going down was a bit easier and thinking that we are bound to enjoy a hot spring after reaching level ground served as our biggest inspiration. Truly, my Mt. Apo experience was the most memorable hike I ever had.