Koh Samui is one of the most visited islands in Thailand. The island has a plethora of perfect beaches, exotic offshore islands as well as exciting land and water sports. Samui is the second largest island in Thailand after Phuket, with the population of 50,000 people according to a census that was carried out in 2008. It may be impossible to enjoy the entire island in one trip as there are numerous things to here. Koh Samui has something in store for every holidaymaker. Below are suggestions to make your holiday easier and enjoyable.
Beaches and waterfalls
License: Creative Commons image source
One of the most enjoyable things to do in Samui is to visit the beaches. The island is popular for its lovely beaches such as Maenam, Lamai, Chaweng, Bophut Beach to name a few. Most of these beaches have facilities where visitors can participate in activities such as sailing, boat chartering, and fishing. If you would rather keep away from the beach and would rather hear the sound of the falling waters then a trip to the waterfalls may just be the ticket.
Visiting the temples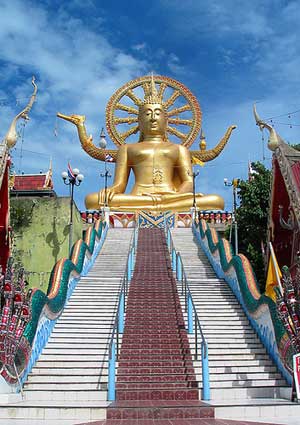 License: Creative Commons image source

If you love architecture, then visiting one of the many Buddhist temples here is a great experience. There are a number of temples in Koh Samui. Big Buddha temple is the most popular one and probably the most renowned landmark in the island. A calm place to unwind, this landmark is a must see for holidaymakers to Koh Samui. Also, there are shops selling lucky charms alongside many food stalls. Other popular Buddhist shrines in the island include Wat Khunaram, Wat Phra Yai and Wat Plai Laem.
Animal attractions
If you love animals, Koh Samui can provide a fun-thrilled experience. Some attractions involve looking while others involve participation. One of the island's most popular spectator sports: Bull fighting. The battle ends when one bull retreats, usually before either bull gets hurt. It is a spectacle that gives holidaymakers a true sight into the island and its inhabitants. You can also visit Na Tian Butterfly Garden which brings together thousands of butterflies. This place is must visit for nature lovers. Don't forget to visit the Aquarium and the tiger zoo in the island's far south-east corner.
Accommodation in Samui
The island is rich in accommodation options, ranging from bungalows to sea view villas to resorts to luxurious hotels. Most of them provide luxurious amenities such as air conditioned rooms. These rooms have kitchens, bathrooms, lounge and dining rooms. Many of the deluxe resorts and hotels also offer various massages as well as herbal treatments. The spas come with Thai or Asian décor, featuring natural materials like bamboo, wood, stone and fabrics.
There are different ways to get to Koh Samui. The easiest way is flying with Bangkok Airways either from Bangkok, Pattaya or Phuket. There are more 20 flights daily from Bangkok alone. There are also Samui ferries that carry passengers from different places to Samui. If you are traveling from the city of Bangkok, it is a good idea to combine a ferry with a train from Hualumphong Station.
John Chen is a travel writer currently located in Bangkok, Thailand.