With the cold chills arriving in Thailand this year, a lot of people have brought out their scarves and winter coats to keep warm. Starting from North and North Eastern Thailand, the cool breeze is slowing expanding to other parts of Thailand and is has now landed in Pattaya. Pattaya, located in Chonburi province is the famous city by the sea favored by expats, tourists and locals. Known for its beautiful beaches, motels, 5 star hotels and a range of entertainment venues, Pattaya is dubbed the must-go to city if one is looking for the best vacation destination.
The arrival of winter has slowed down this fast pace city considerably as many sightseeing places will be closed or available for limited viewing. However, coming to Pattaya during the winter months does have its advantages if you're looking on spending a quiet vacation here.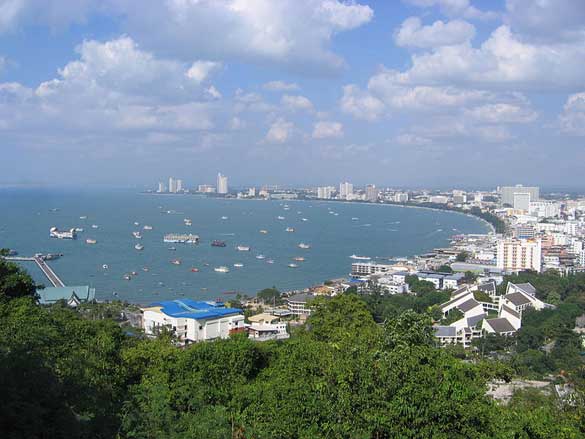 Image source Wikipedia
Lounging at the Beach
As Pattaya is known for its beautiful sun, sea and sand, many tourists come to the beach to enjoy a bit of the beach. With tons of concession chairs available and on-the-go vendors, lounging by the beach is one of the things you can do both in summer and winter. In summer, concessions chairs have to be rented and are charged by the hour. The beach is usually packed with people, mainly tourists lounging on the beach or participating in water activities. There are patches on the beach which are free (meaning, without the paying concession fees for chair and umbrella rentals) which you should take advantage of during the winter. In winter, the beaches are less busy thanks to the cold, breezy chills. You can expect to get some shut eye here if you're really keen on enjoying the beach all to yourself. Head over to Jomtien Beach and enjoy the peace and quiet.
Less Busy Locations
It comes to no surprise that a lot of entertainment venues will be less crowded during the colder months. Places such as Tiffany's Show, Ripley's Believe It or Not, Pattaya Dolphin World & Resort or even Pattaya Water Park will be less crowded. However, the best part is that the prices will be considerably cheaper in comparison to the summer months. Perhaps if you wanted to enjoy the cool breeze, one of the best recommendations is to book a tour to go outside of the city to other major attractions. Nong Nooch Tropical Garden is an advisable location. With beautiful tropical flowers in bloom and animals to pet, this is a one-of-a-kind garden for all tourists. In winter, there may not be as many flowers to photograph but that should not stop you from coming here.
With elegantly trimmed bushes and trees and statues made out of old plant pots, this is a fascinating place to come with your loved ones and your entire family. And of course, prices for entering will be much lower than during the summer months.
Easier Hotel Bookings
Ultimately when going to a place, whether it's in summer or winter, hotel bookings take priority. During these colder months, many hotels will have their booking prices lowered. From Hyatt, Mercure, Pullman hotels, and even local motels, you can book a terrific room for a low and affordable price for you and your entire family. The prices vary from place to place. However, most certainly the price differences should be enough that you can comfortably relax in Pattaya's 4 star hotels without any immediate worries.
Therefore, if you're looking for a nice place to spend your winter vacation, consider coming to Pattaya if you haven't already!
Edna Cassier is a travel guest blogging guru, specializing in writing articles focusing on Thailand travels.