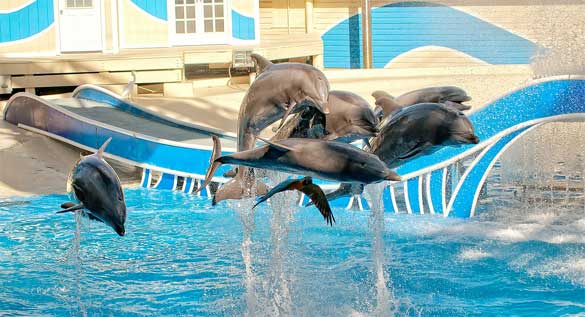 License: Creative Commons image source
Watch a rocket launch, swim with manatees, or explore limestone caves! You don't have to refinance your house or get a loan from the bank of Dad to pack your Florida vacation full of fun.  Aside from white sand beaches, theme parks and flashy restaurants, some of the most rewarding experiences come from attractions that are off the beaten path. Using a city like Orlando in central Florida as your home base is not only more affordable than the southern part of the state, but it will allow you to take short day trips to sites throughout Florida. In addition, since the magic city caters to tourists you will have an abundance of Orlando vacation homes to choose from all year round.
When it comes to attractions, you can avoid costly expenditures by taking in the sites that aren't as heavily promoted as Disney World and South Beach.
3-2-1 Blast Off!
For many people, even a tour of the Kennedy Space Center may be outside the budget, but if you're visiting the Orlando area, you can see a rocket launch for free! A few popular viewing sites are Coco Beach Pier, Brevard County Parks and roadside spots along A1A in Coco Beach and SR 402 in Titusville. Other low cost viewing sites include Jetty Park, Kennedy Point Park and Space View Park. Rates vary throughout the season so you will want to contact the parks directly.
Swimming With Mermaids
Can't afford to swim with the dolphins? Swim with the Manatees instead! Crystal River State Park is located an hour and a half west of Orlando on Florida's west coast. You can swim with the manatees for as little as $40 per person or take a tour of the six Indian Mounds built by Native Americans that lived along the river for $10 per person. The park also offers kayak and bicycle rentals.
Crystal River Preserve State Park – Photo Credit: druss2007/dwr
Nature Exploration
One of Florida's secret treasures known mostly to residents is Florida Caverns State Park. Located in Florida's Panhandle, the area consists of limestone caves and sinkholes that are open to the public for exploration. The caves feature large stalagmites and stalactites formed from many years of water drainage through cracks on the surface of the earth. You can tour the caves on foot and the sinkholes via kayak or canoe. Entrance fees range from $15 per vehicle for a half day to $20 per vehicle for a full day. Camping and other amenities are available as well for additional fees.
Fun, Sun and Sand
No vacation in the sunshine state is complete without at least one trip to the beach. To escape the crowds and immerse yourself in the serene sounds of the sea, try Sebastian Inlet. This three-mile stretch of sand between Palm Bay and Vero Beach gives way to swirling waves and plenty of marine life. Powerboat, kayak and canoe rentals are also available from nearby vendors.
You can find all sorts of fun activities in Florida without burning a hole in your wallet. When you start planning your next getaway remember to stay in a centrally located city. You can find Orlando vacation homes that are close to many of the state's hidden gems. Florida state parks and lesser known beaches are some of the best attractions and cost a fraction of the price.
Marietta has spent the past few summers in Orlando with her Family. She knows this is not a cheap vacation to go on, so she decided to share her family's way of planning this wonderful family vacation.