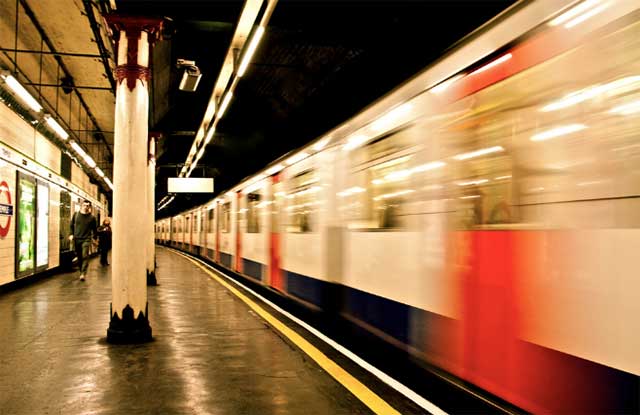 London Underground, Subway – Photo Credit: Beto Frota
Travelling from London to Paris on business or for pleasure can be as quick or as cheap as you like – though not usually both. If speed is an issue and you need to reach Paris at a certain time or as quickly as possible then taking a flight from a London airport to Charles de Gaulle is the quickest option. But flights will cost a premium once you factor in the ticket prices and taxes (plus any extra amount for excess baggage). That being said flying to Paris may not be a quick as you initially expect when factoring in early arrival for check-in, the time on the tarmac and waiting for your luggage – and that's even before you take a taxi or train into the city centre.
Taking the train from London to Paris is also quick, though still usually expensive. Plus you have to get to and from the train stations which can be difficult and stressful if you are not sure of your route. Paris and London are difficult cities to navigate at the best of times, let alone at rush hour!
A cheap alternative to these options is to travel by coach. A company called iDBUS offers fixed fares for travel, so it doesn't matter how early or late you book. You can take more luggage and have more space than if you were to travel by economy flight. Modern coach travel is comfortable, but of course the journeys take much longer. From London to Paris, on average (depending on the route taken) you will probably be travelling for around 9 hours. However this time can be better utilised than a similar amount of time on a flight.
That time spent travelling doesn't need to be wasted, though. You could choose to get a late night coach and sleep, waking up in the morning in Paris fresh and ready for your city break to begin. The seats recling and are much easier to sleep in than a plane seat.  If you prefer to travel during the day, you are free to sit back and relax, taking in the views, standing now and again to stretch your legs. Coaches will often stop for refreshment or rest breaks, during which time you can usually exit the coach and get some fresh air.
The coaches run by iDBUS have free Wi-Fi so you can make the most of your journey time by getting some work done, checking your status updates or just watching a movie online; there are plug sockets available so you don't need to worry about your battery running out. And of course, you can spend some of your journey thinking about the money you've saved on your travel and what you're going to spend it on when you arrive in Paris. iDBUS should really be your first port of call when wanting to travel to the continent on a budget, but without wanting to lose legroom, comfort and the ability to be connected to the internet.
This is a guest post by Claire Chat a new Londoner, travel passionate and animal lover. She blogs about Pets and Travelling in Europe. If you want Claire to write you specific content, you can find email her here or contact her on Twitter (Claire_Chat).