Australia's Blue Mountains are situated just to the west of Sydney, and are filled with so much natural beauty that you would happily pitch up your tent and stay here forever if the opportunity came along to do so. The tragedy of the Blue Mountains is that so many tourists are caught up in heading to Sydney itself that they don't give the area a second's thought.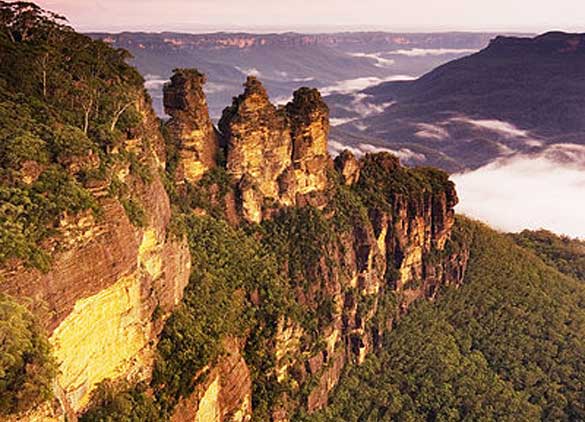 Blue Mountains New South Wales. The Three Sisters sandstone rock formation. Image source Wikipedia
If you are planning a trip to Sydney, make sure that you have pencilled in some time to spend exploring the Blue Mountains and all that they have to offer. We looked at the best ways to discover the area and enjoy a true Australian experience.
Aboriginal Guides
The whole of this area, despite the scale of modern building development, is still steeped in a rich and proud Aboriginal heritage, not dissimilar to more famous sites, such as Uluru, elsewhere in Australia.
Exploring the area with a local guide will enrich your Blue Mountains experience as you learn about the history of each site, and why certain locations are so important to the Aboriginal people even today.
Walk the Mountain Tops
There are several designated walking routes throughout the mountain range, and selecting any of them will afford you some amazing scenery while being constantly refreshed thanks to the clean mountain air.
Walking routes differ from those that take a few hours to those that need days to complete, so make sure you have all necessary supplies if you head out on a longer excursion.
Discover Nature's Beauty
If you were to make a list of the best natural occurrences on the planet, things such as valleys, waterfalls, and caves, the chances are that you will find them all somewhere within the Blue Mountains ranges.
Heading away from the beaten track will allow you to find some of the most beautiful sites in the entire world. Notable locations in the Blue Mountain ranges are Wentworth Falls and Jenolan Caves, the world's largest cave system.
Get in the Car
Although discovering nature for yourself is brilliant, it isn't for everyone. Thankfully, getting in the car and travelling both the well-trodden and not so well-known routes of the area by road still gives you an experience to savour. It also means you can head to the vineyards of the Hunter Valley, for example, and the other surrounding regions to the north and west of the mountains themselves.
If you don't want to drive, either, then the Zig Zag railway is a brilliant experience, travelling regularly between Bell and Lithgow.
Rob is the content writer at Transfercar, which offer car rental in Australia. The author of this post has travelled the globe taking in various cultures, experiences and tourist attractions in some of the most popular countries in the world, with his favourites being Mexico and Peru.