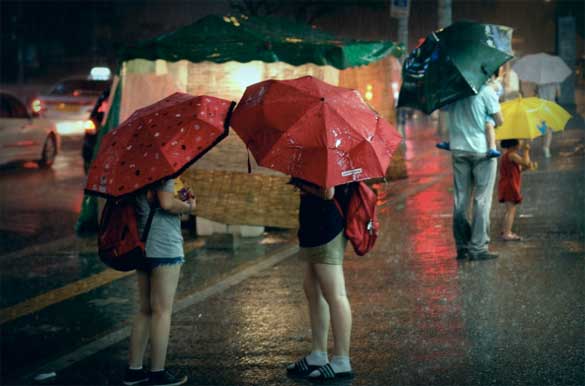 Photo © Arthur Quejadas II (A.D.Q.)
Travelling longhaul is one of the most exciting developments in tourism – but with cheap holiday deals which are too good to be true, there is always a risk that you will be arriving during the monsoon season, meaning raincoats, umbrellas and even the risk of having to be evacuated in extreme weather conditions.
Popular holiday destinations which have a monsoon season include:
Africa
India and Goa
Indonesia
Maldives
Southwest America (eg Mexico, Arizona, Southern California)
Thailand.
The Caribbean (eg Dominican Republic, Cuba, Jamaica, etc) also has a rain and hurricane season from June to October, but these are not strictly monsoons.
Not all extreme weather conditions can be considered "monsoons" and sometimes popular holiday destinations like Malta and Madeira – which normally have stable and even mild weather all year round – can also experience unexpected storms and severe flooding, causing devastation.
Monsoons follow a period of hot, dry weather and are caused by more moist winds blowing in. Monsoons are typified by storms, thunder, strong winds, extreme rainfall and flooding.
For countries like India and its neighbours, the typical season is June to September.
In Southwest America, the monsoon season (sometimes confusing called the North American Monsoon) is usually a little later and may be between July and September – again, for British tourists this is the main summer holiday season and when you might find cheap deals to the US or fly drives.
The Foreign and Commonwealth Office (www.gov.uk) issues alerts about extreme weather conditions, so before booking that ultra-cheap last minute holiday deal – or booking a holiday well in advance – it is always advisable to check the FCO website for the latest weather information about monsoon conditions across the globe. Some seasons may be less extreme than others, but the monsoon season is always categorised by strong winds, heavy rainfall and cloudy or extremely hot and humid conditions.
For travellers who are looking for a quiet two weeks on a sunlounger and some excursions outside their hotel, the monsoon season might be best avoided.
If you have existing medical conditions such as high blood pressure, mobility issues or are having treatment for a chronic condition like COPD or cancer, choosing the monsoon season for a holiday is not advised as not only might it turn out to be wet, windy and disappointing – a state of emergency might result and medical services be overstretched.
Tour operators selling package holidays should advise holidaymakers if there are any circumstances which might compromise their enjoyment of a holiday as advertised in the brochure – booking during the monsoon season is one such circumstance and therefore read the small print carefully if you are tempted to book a super cheap holiday to a far flung holiday destination – and if unsure, ask at the time of booking.
You can hold tour operators responsible for mis-selling holidays thanks to the package travel regulations of 1992.
Peter Anderson – I love to blog about holidays abroad and travel! Google+