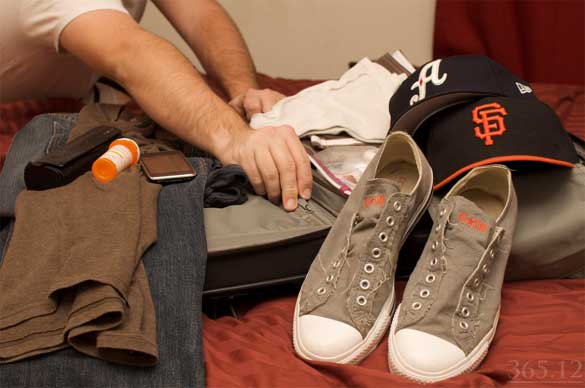 Photo © McSleepy
Backpacking is often viewed as a right of passage for young adults. It has existed as an activity for decades, but has risen in popularity over recent years thanks to social networking. People who have always fantasized about backpacking around a country, region, continent, or the world itself, are able to find motivation (perhaps through simple jealousy) through social sites like Facebook and Twitter.
Backpackers on the road, in turn, are often able to update their own social media sites with status updates and photos in real time. With this flurry of activity in the backpacking world, more and more people are planning trips of their own. And it is absolutely essential to pack accordingly, keeping in mind that everything you want or need will be carried on your own back. Here is a broad framework of a starting list for all the bare essentials you will need.
Clothing
Backpacking requires you to pack as few items as possible. Clothing is perhaps the biggest source of confusion and frustration. You must come to peace with the idea that you will be wearing the same clothes multiple times over. With this simple fact in mind, two important things naturally follow.
One, you want clothing items that are very versatile and can be worn in many combinations.
Two, you want clothing items that are easy to keep clean (or easy to hide wear and stains) and that retain their shape when worn multiple times.
These are two very important things that must be kept in mind as you choose your wardrobe (also taking into account the climate and weather of your area(s) while you are there).
Basic clothing for a two-week trip should include one or two pairs of long pants. Denim is not a good idea because while it is versatile, it is heavy, and is uncomfortable to wear for days on end. Instead, choose a pair of pants that are "technical" in nature – these can easily be found in outdoor sports stores.
Choose a darker color. A great pair to invest in is convertible pants, where you can get two or three pants in one: long pants, capris, and shorts.
Tops are the most important as they control your body temperature as well as your appearance. One pair of long sleeves, one or two pairs of short sleeves, and a tank top will suffice. Again, choose neutral, darker colors. Wool is a great material for shirts because it can be worn multiple times without odor, and keeps you comfortable in a variety of temperatures.
If you are going to be traveling in colder climes, you will, or course, need more layers: a fleece jacket, ideally with windproof capabilities. A vest is also a great clothing item as it keeps your core warm.
Underwear, while seemingly small, can add up to a big bundle of cloth. The shocking truth is you only need two pairs of underwear: you rotate between the two, washing whatever pair you aren't wearing in the evening (often by hand in a sink). Socks, if made of wool, can be pared down to only two pairs, with the same idea as underwear in mind. Women might want to pack two pairs of bras, as well. Sports bras are the most comfortable for long term use but one pair can be the "normal" kind.
Hygiene/Medicines
Hygiene items should come in travel sizes – 3-5 ounces should suffice for two weeks if used sparingly. Instead of packing soap/body wash as well as shampoo – pack shampoo. The two are basically one and the same. Dry shampoos (in bar form) are excellent, as they are lighter than liquid forms.
Lotion can be used as hair conditioner as well as shaving cream. Toothpaste and floss are necessary, and the floss can be used as string to hang laundry. Any prescription medications should be packed, with a few days extra worth. Over-the-counter medications like motion sickness, stomach upset, and pain relievers are all extremely useful to have while travelling.
Footwear
Try to bring two pairs of shoes – one comfortable and light pair of hiking boots or running shoes that are your primary, every day shoes. You will be walking in them a lot so they absolutely must be of the highest quality and comfort you can afford. The other pair should be sandals or sturdy flip flops, which can get wet and also can be worn while showering in public bathrooms (for hygienic reasons).
Vitals
Most backpackers choose locations abroad. This, of course, means that you will need a passport. If you do not have one already, get one as soon as possible – the average turnaround period after applying for one can be up to as long as four to six weeks. Requests are taken for expedited orders, and these can be completed in two to three weeks. Another vital item to take care of is finances.
You must have a reliable source of money, the best form of which is credit and/or debit cards. A good idea is also to have cash on hand, the amount of which depends on how much you are comfortable carrying. Aside from the passport, have another form of identification in the rare, unfortunate case that your passport is lost or stolen.
Extras
Anything other than the above-mentioned bare essentials are extras. Electronics such as laptop, camera, e-readers should all be carefully considered: are they necessary? Do you have room for them? Can you afford the extra weight?
A camera, while necessary for most to preserve memories, is a burden for the ultimate ultra-lightweight minimalist backpacker. Books and other reading material can be purchased abroad. A nice extra to have is a packable day pack with which you can explore nearby areas out of your "base", while storing your main pack in a safe place.
Kevin Caldwell wrote this article for dublintemplebarhotels.com. Click here to learn more about their services and how they help travelers save money on hotels near Temple Bar in Dublin.