It has roller coasters that will make your stomach drop, upside down thrill rides that might make you lose your lunch and spinning rides that aren't for the faint of heart. Thrill seekers in Texas absolutely love to come to Six Flags Over Texas to get their fix but how does it measure up to other amusement parks in the area? Well for one, it has the Six Flags name. Six Flags is known for providing quality amusement parks at various locations around the United States. They are often big parks that have the latest and greatest thrill rides but is the same true in Texas? We looked at surrounding amusement parks to find out just how great Six Flags Over Texas really is.
Six Flags Train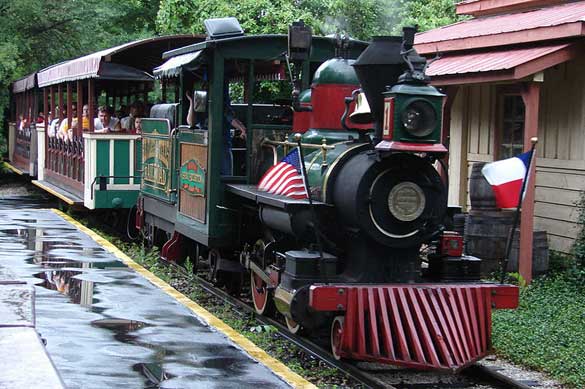 Image Source Wikipedia
Joyland Park v. Six Flags: The first on our list of comparisons is Joyland Park. Joyland Park is located in Lubbock, which is about four miles east of Dallas. Joyland Park advertises 11 thrill rides compared to the 12 at Six Flags Over Texas. Joyland Park also has four family rides and 9 rides for the kids. Six Flags has 22 family rides and 11 kid rides. A one-day admission ticket to Six Flags will cost $45 if you purchase it in advance and online. An armband for unlimited rides at Joyland Park is $19.
The winner: It's hard to determine a clear-cut winner between these two. Six Flags has more to offer but if you're looking for the lowest cost option you'll want to go to Joyland Park. Assuming you live in the Dallas area, we'll take gas money into consideration and make Six Flags the winner of this battle.
Kemah Boardwak v. Six Flags: Next in the battle of the thrill parks is Kemah Boardwalk. Located in Kemah and four hours south of Dallas in Galveston Bay, this thrill park is unique and offers a gorgeous view while you get your thrills. There are a total of 15 rides at Kemah Boardwalk and this park charges per ride. Or you have the option of buying an all day pass for $22. That excludes some of the extra features but allows you to experience the main attractions in the park.
The winner: Even though Six Flags beats Kemah Boardwalk on number of rides, the view that you'll get at this shore side amusement park is really tough to beat. Although it is a four-hour drive, it's worth it and you'll save a bit on admission. This is a great park for a family weekend getaway making Kemah Boardwalk the winner.
Wonderland Amusement Park v. Six Flags: This next park takes us to Amarillo. This is the farthest away from the Dallas area and will take you just over five hours to drive there. Wonderland offers seven thrill rides, ten rides for the whole family, five water rides and seven kiddie rides. Six Flags definitely wins this one in the ride department. For a weekend adult rider pass, Wonderland Amusement Park charges $25. They also offer the choice to pay per ride. The unique thing about Wonderland is that they offer a $5 pass for spectators so if you're taking the kids and don't plan on riding, this will save you some money.
The winner: It's not really worth the five-hour drive to get to an amusement park with few rides. Although you'll save on admission if you don't plan to ride, you'll pay for it in the 10 hours it takes you to get there and back.
It all comes down to what you are looking for in an amusement park. If it's just the size and amount of thrill rides that you're looking for then Six Flags is the place to be in Texas. For more of a unique experience and weekend getaway, don't miss Kemah Boardwalk.
Chas Carrier is a cash home buyer and real estate expert who buys and sells homes throughout the DFW metroplex with We Buy Ugly Houses Dallas.