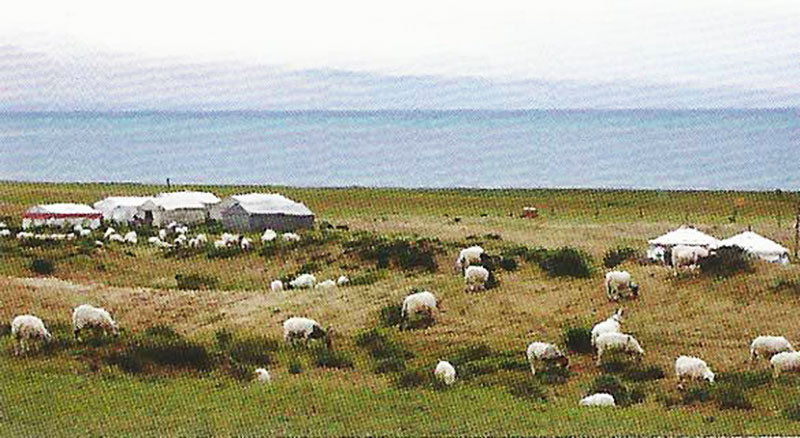 Fusi Town and Hudong Stud Sheep Farm: Fusi Town is located on the Tiebujia Grassland, nine kilometers from Huanhu West Road. After Tuyuhun Kualu came to the throne, he called himself Khan, set up the capital here, and named it Fusi City.
The town, also known as Tiebujia Town, is the most famous ancient town around the lake. It is square in shape, 200 meters from north to south and 220 meters from east to west. Its walls are 17 meters wide at the base and 12 meters high. The layout of the town exhibits the architectural features of both the Han people and the Tuyuhun minority people.
Hudong Stud Sheep Farm
The Hudong Stud Sheep Farm on the eastern shore of Qinghai Lake is a leading national livestock-breeding farm. In 1982, it was designated as one of the provincial­ level tourist attractions around the lake. Within the farm area, there is a picturesque small marshy lake known as Erhai Lake, which came into being as the water level in Qinghai Lake dropped.
A stone tablet dedicated to the god of Qinghai Lake, which dates back to 1726 in the Qing Dynasty, is a valuable piece of cultural heritage and evidence to the grand lake-worshipping cer­emonies in the history of Qinghai.
Hope you enjoyed reading about "Fusi Town and Hudong Stud Sheep Farm". Please do share your thought in the comment section below.