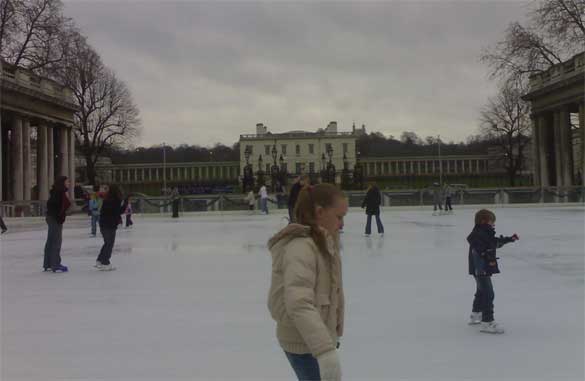 ice skating in the royal naval College – Photo Credit: Mac Morrison
While most people probably think about taking a holiday to London during the warmer months of the year, there is still plenty of fun to be had in this large cultural city even during the coldest months of the year. Whether you are planning a holiday to London to ring in the New Year or you are going there to spend some time with your honey on a romantic getaway during the middle of the winter season, London has so much that you can do and see. It may, in fact, be the perfect getaway because it will allow you to spend some time away from all of the daily stress that has you frazzled, especially during those months of the year when you are mostly stuck indoors trying to stay warm and the hours of daylight are shorter.
Below is a look at some of the many activities you can partake in during your holiday in London during any month of the winter season. You may be pleasantly surprised by all that there is to do, despite how low the temperatures can go.
Visit a Pub and Relax by the Fire
Pubs are cosy environments found throughout London where you can enjoy good food and great ale. After touring the city on your feet all day, relaxing by the fireplace of a local pub is a perfect way to end the evening. You can chat with other tourists or make friends with some of the city dwellers, but most of all, you can sit and watch the city's sights go by all while sitting cosy and warm indoors.  Pubs can be found all over the place so you will never have to walk far to find one.
Ice Skating
Outdoor ice skating is one of the most popular winter activities in London for both locals and visitors alike. There is an ice skating rink found in the gardens of the Natural History Museum, or you can instead try out one of the city's many other rinks, such as the one found near the Tower of London, with the gorgeous castle as a backdrop. And there is yet another popular rink located at Kew Gardens.
Shopping
Whether you just window shop or you feel the need to enter every store you come across, London is one of the very best cities in the world for a truly great and unique shopping experience. From massive stores with gorgeous winter displays in their windows to smaller boutique shops owned by small business owners throughout the city of London, you will find everything you are looking for, from toys for the children to souvenirs that you can take home with you to remember your fun winter holiday.
See a Show
Whether you opt to see a live play, a concert, or one of the anticipated pantomime shows of the winter season, London is certainly not short on entertainment during the coldest months of the year. These shows are a great way to get inside and stay warm while also having a blast and laughing or singing the night away.
Paula fregus enjoys to travel and often visits London.