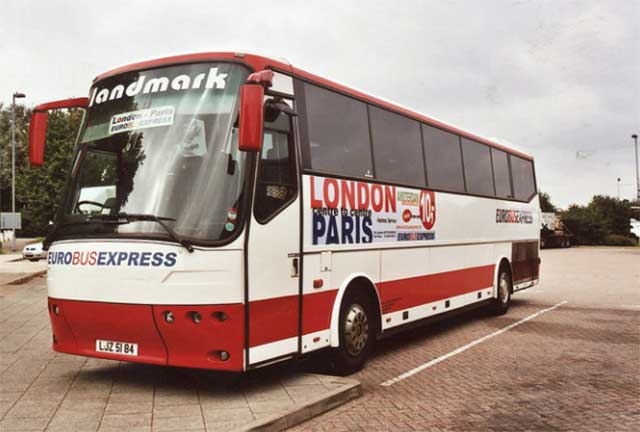 Photo Credit: AndrewHA's
There are so many ways to travel from London to Paris – boat, train, plane, bus – that travellers really are spoilt for choice.  But whilst trains and planes are undoubtedly quicker than buses, they are certainly more expensive.  Boat journeys are not cheap, either.  Yet bus travel to the continent has been rather dismissed by some who decry it as slow and uncomfortable.  Yes, bus travel is slower than plane or train, but there are so many advantages to taking the bus from London to Paris that it is certainly worth a second look.
Firstly, unlike with trains and planes, you don't need to worry too much about getting there very early.  You will still need a passport or ID and you'll have to go through customs, but those checks are usually undertaken whilst you're still in your seat on the coach when you arrive at the border.  You certainly don't need to spend forever in queues and sit on the bus for an hour just for the sake of checking in early.  Your seats with iDBUS are allocated, so you don't even need to arrive early to get seats together with your family or friends, and there is no waiting around for different seat numbers to be called for boarding.
Then there is the matter of sleep.  This is especially relevant if you are travelling with young children.  Buy seats on an overnight bus from London to Paris and you and your children will get a few hours' sleep (once the excitement of being on a bus has worn off).  You can get a night-time flight, of course, but at less than an hour to Paris there is little chance that your little ones will get any shut eye and when you factor in the check in times and baggage collection that can mean spending a good part of the night with awake, yet tired, grumpy children.  If you're planning to travel during the day, keep the children entertained with online movies or games – something you're unlikely to be allowed to do on a plane.
Buses stop for breaks for the driver, which allows the passengers to stretch their legs too.  Pack some sweets, books or magazines, or get some work done on your laptop using iDBUS's free Wi-Fi and you'll find that the time soon passes.
It's a form of transport that allows you to keep your bags close by, so that you know that your luggage is making the same journey as you, to the same country and at the same time.  Unloading the coach takes a matter of minutes as the driver pulls the bags out of the hold beneath the seats.
Bus travel also makes travel from London to Paris affordable for people who otherwise would never be able to make that journey.  It opens up a whole continent for travellers on a tight budget.  If you have spare cash, then why spend it on the journey when you could spend it on your holiday instead?
This is a guest post by Claire Chat a new Londoner, travel passionate and animal lover. She blogs about Pets and Travelling in Europe. If you want Claire to write you specific content, you can find email her here or contact her on Twitter (Claire_Chat).