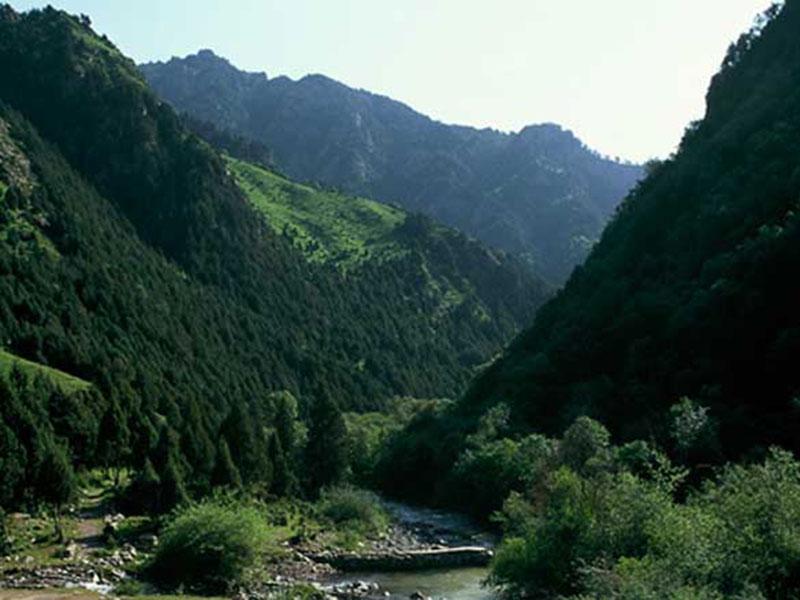 Beishan Mountain National Forest Park lies between the Qingshi Ridge and the Lenglong Ridge in northeast­ ern Huzhu County. It is home to over one thousand plant species, of which 981 are higher plant species. The park is thus known as "Plant Kingdom on the Qinghai Plateau."
The forest park consists of five scenic areas, namely, Yuanpudaban, Langshidang, the Kasuo Gorge, Zhalong Gully and Xiahe Gorge. The Tiantang Temple and Gandan Temple are both ancient temples in the park.
The 1OOO-year-old Tiantong Temple is very famous in Northwest China for its rigorous Buddhist teachings and rich collection of cultural relics. Tiantong Temple is listed as one of the "Five Chan Buddhism Temples". The park is well equipped with tourist service facilities and is an ideal place to escape summer heat, for whiling away leisure time and convalescence. Tiantong Temple was first established by monk Yixing in 300, in the first year of the age of Yongkang of Emperor Hui of Jin.
Transport: Take a bus to Huzhu County, and change to a minibus to Beishan Park. Non-local tourists can depart from Lanzhouin Gansu Province and reach Beishan National Forest Park via Haishiwan and Yaojie.
Beishan National Forest Park one of the intact natural forest resources located in Qinghai Provinces, China.
Hope you enjoyed reading about "Beishan Mountain National Forest Park in Huzhu". Please do share your thought in the comment section below.