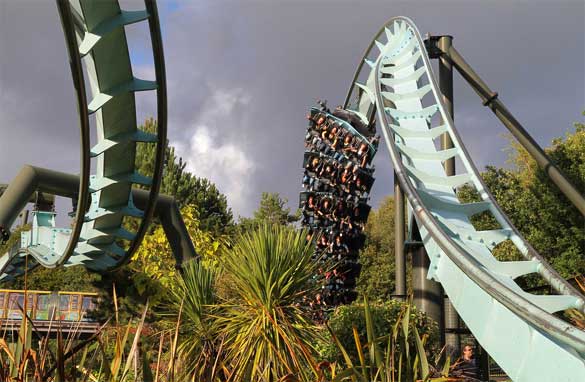 Photo Credit: Steve Carr
Each year millions of families come to Stafford shire, England to visit Alton Towers. The park is popular with guests because it has fun things to do not only for older kids, but also for younger children. Teens and adults enjoy riding the many thrilling roller coasters like the Rita and Submission, while little visitors delight in visiting the Charlie and the Chocolate Factory ride and going to Driving School. Food is offered in each of the 13 separate themed areas of the park so visitors can spend the whole day enjoying themselves, without worrying about needing to leave the park to eat.
Visitors to Alton Towers also have the option of staying at one of the park's two beautiful hotels. Staying at these hotels is convenient for travelers spending their holidays at this destination as there is a monorail system that connects both hotels to Alton Towers. Due to the popularity of this theme park there are a number of tips and considerations to consider so everyone has a great, hassle free time on their holiday.
One of the main thing to consider while planning a visit to Alton Towers is what to bring along. If, for example, the family is headed for the water park on their visit things like a swimsuit and towel are must haves. In addition, people will want to pack things like sunscreen and possibly a sun hat, as it can be expensive to buy these item on site. Another thing to consider before heading out to visit Alton Towers and its many attractions, is the fact that loose bags and items are not allowed on a majority of the big rides like Oblivion and Thirteen. There are lockers to leave items in at the Guest Services area, but it is best to bring as little as possible.
Travelers are also advised to plan their time at the park before heading out to Alton Towers to make sure things go smoothly. A theme park map can easily be printed out from home so that everyone can pick out their must see attractions and no important spots are missed. In addition, there is an Alton Towers app that can be downloaded on to a smart phone in advance so guests can simply navigate the park once they arrive. Visitors can save money on their trip by doing things like buying their tickets online or during the off season. These tickets can be printed out at home and this helps so that families, especially those with small children, don't have to wait in long queues once they finally get to Alton Towers.
There are many tips that will help people's trips be more enjoyable once they finally arrive at Alton Towers as well. One such tip that has helped many visitors is to head to Guest Services at the start of the visit. Once there parents can pick up free ID wristbands for the children in the party so that they can be easily identified if they become separated from their group. Another great time saving idea is to purchase a fast track ticket to some of the more popular rides to reduce wait times. Also ensure you look up any Alton Towers discount available online to save money.
Taking advantage of these tips and tricks will guarantee that the visitor has a great time while on holiday at Alton Towers.
Johanna Hogan writes for my family club – For all the best deals & discounts for families – save and manage money.
You may also love reading "How To Keep Your Baggage Fees To Minimum"