London may be a city associated with bustling commuters, but by avoiding crowded tube stations you could discover a more relaxed and peaceful side to the capital. Whether you're visiting London for a weekend break or you're a local looking for something different, self-guided walks can be the perfect way to see the city's sights and experiences in a new light on your own time schedule.

License: Creative Commons image source
Restaurants
Foodies are spoiled for choice when it comes to areas to eat out in the city, and walking tours can take in many of these culinary attractions. The West End is a popular choice for nights out, which can be combined with walks around Green Park. But more seasoned epicureans can be pointed to the fine eateries around the Monument and Embankment areas.
Other parts of the city feature streets dedicated to chocolate and other types of confectionary, while certain areas are associated with specific foods depending on the time of year – from strawberries at Wimbledon in the summer to mulled wine and chestnuts at London's Christmas markets in the winter.
Walking around some of London's historic market districts can be an entertaining activity for food lovers too, as you're bound to find great deals on all types of food at places like Borough Market. For more exotic delights, consider taking a detour to Chinatown.
Bars
London's riverside pubs can be just the place to catch your breath and refuel on walking tours of the city, nestled between some of London's key attractions such as the Tower of London.
Heading east from the Tower, you'll find plenty of quaint pubs dating back centuries, including the Mayflower pub close to the Brunel Museum and the Angel pub near to Tower Bridge. You'll stumble upon other pubs with rich histories during a riverside walk, including the Prospect of Whitby (which used to be a haven for smugglers in the 16th and 17th centuries) and the Dickens Inn, which is still housed in its original building.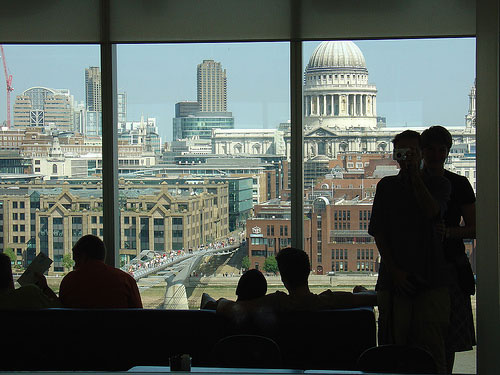 License: Creative Commons image source
Culture
The South Bank and Bankside districts are popular walking destinations that feature a plethora of attractions, whether you're drawn to traditional theatre performances at Shakespeare's Globe or challenging contemporary artworks at the Tate Modern gallery.
Walks typically begin from Waterloo station heading towards London Bridge, offering a number of photo opportunities of iconic landmarks like Westminster and the London Eye before reaching the cultural precinct of the South Bank Centre, incorporating the Royal Festival Hall, Queen Elizabeth Hall, Hayward Gallery and National Film Theatre.
Shopping in London
Walks around London don't have to be all about taking in the sights though, and some of the most entertaining walks are those that cover the city's leading shopping areas, such as the 12 dedicated retail streets around Carnaby Street in the centre of the city.
Other areas have built reputations over the centuries for specialising in certain types of products, such as the tailors of Savile Row and the high-end shoe stores of Covent Garden where you're sure to find everything you're looking for, from stylish wide ladies shoes to children's styles.
Fashion is big business in London, and if you're looking for boutique bargains or just planning to window shop, head to Knightsbridge, Sloane Square and Chelsea or join the celebrity shoppers at Marylebone and Primrose Hill. One of the most common shopping walks begins and ends at Piccadilly Circus, or you could pick one of the city's many luxury department stores to enjoy a day of retail therapy, such as Harrods and Hamleys on Regent Street.
Michelle Williamson is a London mum working for a small charity and blogging in her free time.