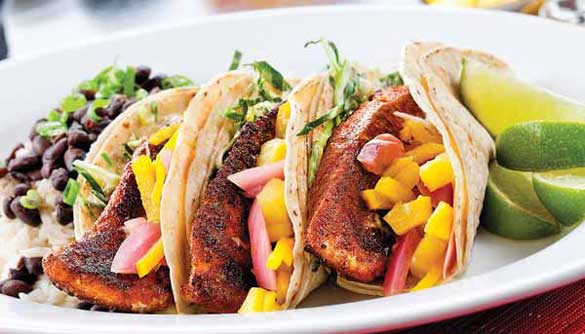 License: Image author owned
If you're a lover of food and fine dining, you will be pleased to know there are a lot of different restaurants and cafés in the Miami area. This means there is something for everyone no matter your palate and budget. Choosing from the many places to eat can be somewhat difficult, and this is why I have compiled a list of some of the best places to eat when you're in the area.
Town Kitchen And Bar
Located at Plaza 57 at 7301 SW 57th Court in South Miami Town Kitchen And Bar is a classy place to eat that caters for almost every palate. You will have the opportunity to choose from 4 different menus depending on the time of your visit, and you are almost guaranteed to enjoy the food here. If you think eating in a classy place means you won't be able to enjoy a good burger, you're quite wrong. The burger menu here is something else, and as with all the food on the menu, it will be good quality and very tasty.
Nemo
Found at 100 Collins Ave, Miami Beach, this elegant restaurant has a fine range of dishes for you to enjoy. If you would like to sit down and enjoy a delicious meal in a classy restaurant then this is the place to be. The slow braised Colorado lamb shank is not to be missed, and neither is the frozen key lime soufflé. The food here is not cheap, but it's good quality and if you have a reason to splash your cash and enjoy some quality dining, Nemo is the place to do just that. You might want to think about booking in advance if you can as Nemo can get busy at times.
Five Guys
If you're a fan of a burger and other such like dishes, you'll love Five Guys. Found at 3401 North Miami Ave, this amazing restaurant will serve you some delicious food that won't cost the earth. Open almost all day and thro' 'til the early evening, you can be sure you will enjoy eating in a classic restaurant that's sure to make your vacation a little brighter.
With 8 burgers on the menu and a large variety of other dishes and sides, you will have plenty to choose from. Well worth a visit for those of you who love a great-looking place to eat that has an atmosphere to match.
Tuscan Steak
Although the name of this restaurant suggests it sells steak, it's not the only delicious dish on the menu. Found at 433 Washington Ave, Miami Beach, Tuscan Steak is a classy and relaxed restaurant that sells some exquisite dishes. You'll be pleased to know the food served here is not expensive, and you can afford to enjoy some top class meals for less than you would have to pay elsewhere. You may want to book in advance if you can as this restaurant can get quite busy at times.
Author Bio: When Rachel Jones is not discovering the delights of cities around the world, you can find her blogging about her experiences. Rachel loves everything to do with Miami and she highly recommends Miamivacationrentalsonline.com