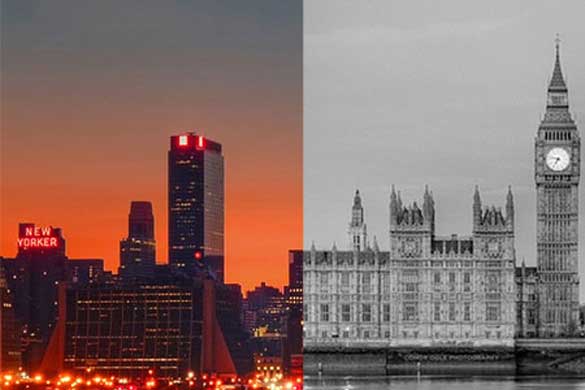 License: Image author owned
London and New York are both thriving international cities sitting on opposite sides of the Atlantic Ocean. Despite being in different countries, the two share a lot in common, accounting for the reason New Yorkers have a special fondness for the UK capital.
Language
New York and London residents may have their own unique brand of English, but there's more than enough overlap for New Yorkers to talk their way around London without any problems. As a travel destination, London retains a foreign feel without the language barrier. That combined with numerous overnight flights between New York make it a favourite destination for New Yorkers in search of a getaway.
International Appeal
Naturally, both cities attract residents from all over the world. Through different waves of immigration, different cultures and ethnicities have flocked to New York and London over the past several hundred years. The result is that both cities are full of a vast array of cultural activities, ethnic restaurants and neighbourhoods.
Cost of Living
Living in a global city doesn't come cheap, with New York and London receiving the dubious honour of being two of the most expensive cities in the world. A recent survey by Eurocost International ranked London as the 5th most expensive city, while New York hung back in the 22nd position. Both the rental and sales markets are tough in these two cities. The cost of a studio flat in Manhattan and Kensington would be enough to buy a family home in many other parts of the world.
Infrastructure
Few cities in the US rely on a subway system as much as New York. That's probably why New Yorkers find it so easy to adapt to travelling along London's Underground network. Both systems could probably benefit from some upgrades, but are at least widespread enough to the point where having a car is not necessary.
Industry
New York has Wall Street and London has The City and Canary Wharf. In these two cities, money matters and in both locations, hundreds of thousands of residents are employed in the financial services industry. While Wall Street may get notoriety, London's financial centres benefit from a trading day that encompasses both the Asian and American markets, making it literally the financial centre of the world.
Boroughs
New York is famous for its 5 boroughs – The Bronx, Brooklyn, Manhattan, Queens, and Staten Island. Each has its own unique set of features, amenities and aesthetics. Not to be outdone, London boasts an incredible 33 boroughs that range from village to metropolitan suburb each with their own personality. For example Mayfair, one of London's exclusive districts, is filled with some of London's most luxurious hotels, restaurants and shops whereas Shoreditch, more akin to Queens, is young vibrant and continuously innovative. The result of thousands of years of development and subsequent redevelopment, it's hard to beat London's boroughs when it comes to personality and cultural offerings.
Where they Differ
Despite their similarities, there are clear differences between New York and London. For one, New York is a much younger city than its British counterpart. While that translates into fewer historic sites, it also means that it benefits from more modern amenities although London's infrastructure is certainly in a redevelopment stage.
In the end though, it is the similarities between the two cities that keep New Yorkers flocking to London and vice versa. London enjoys the added appeal of being in close proximity to so many other alluring European capitals such as Paris, Edinburgh and Belfast. For New Yorkers, travelling or even living in London is an easy transition from their hometown, but also opens up the possibility to explore and enjoy new cultures and places.
References:
30 most expensive cities
This article was written by former New Yorker Taylor who has recently found a new home in London!