The term "dental tourism" might have seemed like an oxymoron a few decades back. After all sitting in the dentist's chair and getting drilled seems incompatible with leisurely holiday pursuits. However, an increase in aging population world over and high cost of health care in western countries has led to the popularity of dental tourism.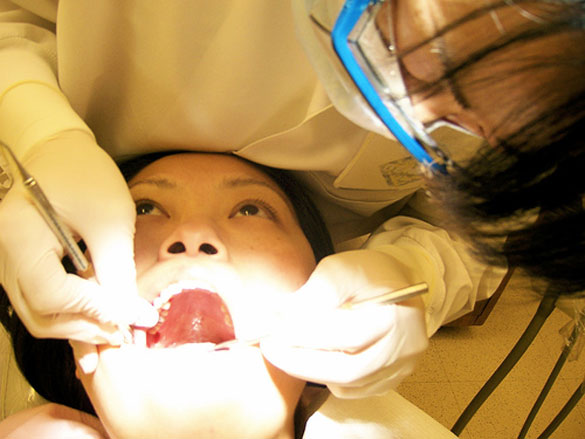 License: Creative Commons image source posted in flickr
Overview of Dental Tourism in Thailand
Many people from the United States, Canada, Australia and European countries travel to Thailand to get their dental work done at extremely affordable rates. Dental tourists typically opt for dental tour packages that include accommodation, transport to the hospital, and sightseeing tours.
Dental tourism in Thailand is popular the world over for its modern hospitals with world class equipment, skilled dentists, and graceful and caring service. Dental treatments popular among tourists to Thailand include dental crowns, fillings, and implants; veneers; dentures; and tooth whitening treatments. In addition, the dental tourists get to visit the beautiful beaches of Thailand and explore its rich cultural heritage.
Dental tourists need to plan their trip such that they have ample time to complete their dental treatments. Most tourists get short-term dental work done that can be completed with one to three weeks. Longer procedures like dental implants might take a couple of months.
Most dental clinics catering to foreign tourists have websites that provide detailed information about the treatments offered and the doctors' qualifications. In addition, dental tourists can ask for free quotes and time estimates.
Why Dental Tourism in Thailand Is the Best Option
Thailand is the world leader in dental tourism, ahead of other developing countries like India, Singapore, and Malaysia. The country's dental tourism sector is growing at a rate of 16% per year. The following are several factors that make Thailand a preferred medical and dental tourism destination.
1. Thailand has some of the most renowned dental treatment centers, equipped with cutting edge technology. For example, Bangkok Phuket Hospital has facilities at par with the top hospitals in the U.S.
2. Many of the dentists practicing in Thailand are known world over; they are highly skilled and can perform complex dental surgeries like transparent alignment and "All on 4" hybrid dental implants.
3. There are fewer communication problems as most of the doctors in Thailand speak very good English. Many clinics and hospitals that cater to foreigners also have in-house interpreters.
4. Dental treatments, like fillings, are much cheaper than the cost of treatment in Australia, U.K., and U.S. For example, porcelain dental crowns which can cost up to 900 dollars in U.K. are done for as less as 350 dollars in Thailand.
5. Since the dental treatments are much more affordable in Thailand, people can go for higher quality treatments.
6. Accommodation and travel costs in Thailand are comparatively lower than that in other developing countries like Singapore.
7. Bangkok's Suvarnabhumi International Airport has a high frequency of flights from Europe, Asia, North America, and Australia.
8. Bangkok has over eight hospitals that have received the US Joint Commission International certification. Many of the Thai dentists have been certified by the American and other international medical bodies.
Dental tourism in Thailand, which is heavily promoted by the Tourism Board, is set to reach greater heights in terms of growth and quality of treatment. Given these irresistible benefits and the unique tourism opportunities that the country offers, it is inevitable that most dental tourists would choose Thailand for the dental holidays.
John Chen is a travel writer currently located in Bangkok, Thailand. His favorite dental clinic in Bangkok is Dr Sunil Dental Clinic.