If you are a vegan, following a diet that contains no animal by-products, but you also love to travel the world, it can sometimes be quite difficult to find the best places to eat, where your unique dietary needs will be accommodated. But when traveling to modern cities like London, you actually have more options that you probably first imagined. Depending upon what area of the city you are staying in, you can find some incredible restaurants with delicious foods that you will never forget.
Here are just a few of the best restaurants where vegan meals can be found in London:
42 Raw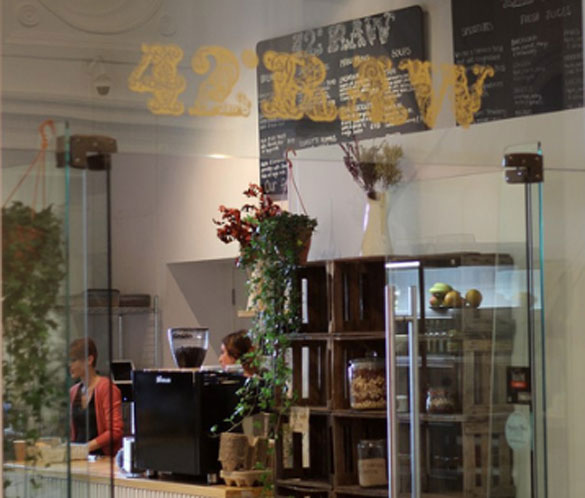 Image Source Flickr
You can find this restaurant at 6 Burlington Gardens, Westminster, and with its moderate price range, you will not break your budget here either. Enjoy vegan, raw meals that will give you the energy you need to continue exploring everything the city of London has to offer. You can choose from lasagne to Thai noodles at this restaurant, which clearly tries to cater to tastes from all over the world.
Itadaki Zen
Located on King's Cross Road, Itadaki Zen is a vegan, organic Japanese restaurant. Using the finest ingredients that have healing properties, the restaurant wants to help you prevent illness and cure disease naturally, through the use of good food. All of the menu options, from the variety of sushi options to other traditional Japanese rice and noodle dishes, are handmade.
Vitao
Located in the heart of Soho, this restaurant offers raw and vegan meals that are meant to provide you with vitality and strength. It also caters to macrobiotic diets and gluten allergies. Using only the freshest ingredients, the menu changes weekly in order to use the produce that is available at the time, and ensure the healthiest meal options possible. The menu options offer globally inspired meals, from Chinese to Indian and American.
Amico Bio
Vegans can often find it difficult to find a good Italian restaurant that will cater to their needs, as many Italian dishes use dairy products. However, Amico Bio is the first restaurant in London to offer organic, vegetarian and vegan Italian dishes. Many gluten-free options are also available, and most of the fresh ingredients are transported all the way from the family farm in Italy. Chefs here also use seasonal ingredients to keep everything as fresh as possible. Indulge in some incredible desserts after choosing from a variety of Italian options, from risotto and pastas to vegan bruschetta.
Jai
Located at 33 Old Compton Street in London, Jai is a great place to go for a quick meal while you are busy sightseeing in the city. This East Asian buffet offers many different mock meat dishes to cater to vegans looking for a hearty meal that will fill them up for more shopping and walking through London's gardens and museums. And because it is inexpensive, you can enjoy all the Thai cuisine and Chinese-inspired dishes while having plenty of extra money to spare for transportation costs and souvenir shopping.
Visit Ultimate Chauffeurs now for more information on all things London.