Penang Island. Image source wikipedia
On the northwest coast of the Malaysian Peninsula, the state of Penang is divided into two parts, the island which bears the same name and the province of SeberandPerai on the mainland peninsula. Penang's history of settlement stretches back nearly 5000 years and the island was trading with the Ming Dynasty of China in the 15th Century.
The island's position on the spice trade routes made it a key possession in Britain's Empire, second only to Singapore, and there was an attempt to rename it 'Prince of Wales Island' but it never caught on. Malaysia gained independence in 1948 and the legacy of colonial times is its great cultural and ethnic diversity, which makes it a vibrant and fascinating place to visit. There is no shortage of hotels in Penang, whichever corner of it you choose to explore.
George Town
Named after King George III, the state capital of Penang, sitting on the north-east corner of the Penang Island was declared a UNESCO World Heritage site in 2008 in recognition of its unique collection of pre-war and colonial buildings and cultural diversity, found nowhere else in Asia. Wander round its narrow streets and you will find gilded Chinese temples side-by-side with imposing white stucco colonial edifices
KhooKongsi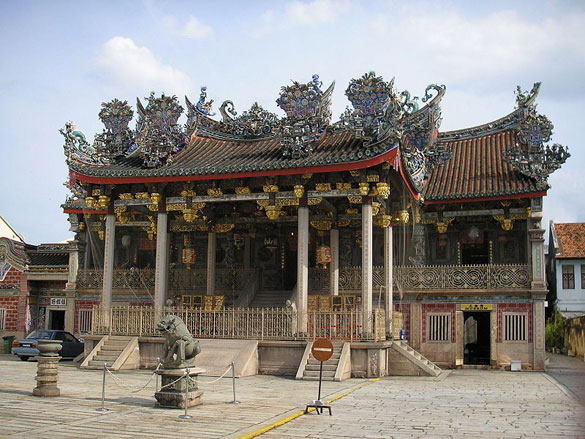 The Khoo Kongsi temple in Penang. Image source wikipedia
A very ostentatious example of Malaysian multiculturalism, the KhooKongsi is a Chinese clanhouse belonging to the Leong San Tong or Dragon Mountain Hall family. This isn't the original structure on the site, which burnt down after being struck by lightning, allegedly because it was so grand it angered the gods. Inside are huge murals of the 36 celestial guardians, a gilded alter and porcelain statues of dragons and carp.
Penang National Park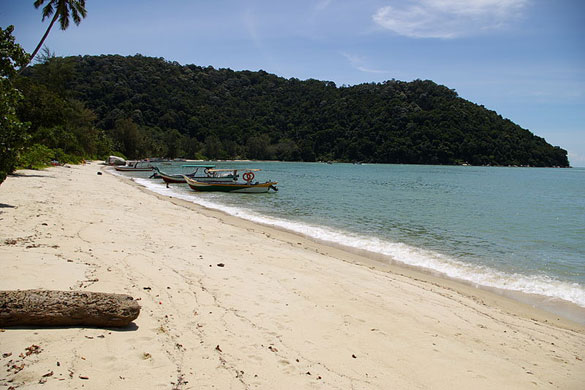 Monkey Beach in Penang National Park. Image source wikipedia
At just 26 square kilometres, Penang National Park is compact but manages to pack a lot into its borders with some unique habitats including wetlands, mangrove swamps and tropical forest. The latter can be explored from the 250 metre long Canopy Walk which is suspended 15 metres off the ground, taking you to treetop level where you may see flying squirrels, lemurs and exotic birds. The park is also home to Penang's best beaches including the popular Monkey Beach where you may well encounter the primates after which it is named scampering about on the sand.
KekLok Si Temple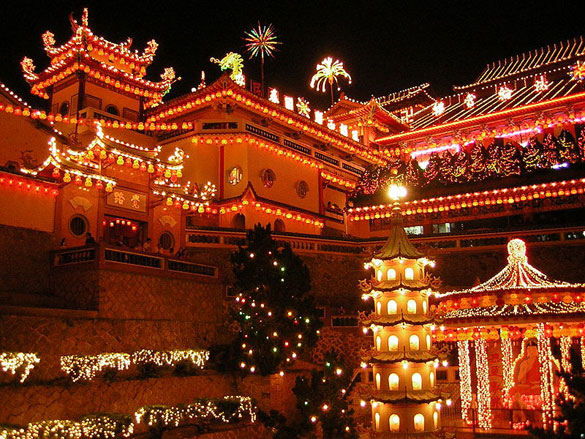 Kek Lok Si Temple. Image source wikipedia
This 'Temple of Supreme Bliss' is a seven-storey edifice and the largest Buddhist place of worship in Malaysia. Begun in 1890 by a Chinese immigrant, its construction took 20 years. Surrounded by turtle and fish ponds, the centerpiece is Ban Po Thar, a seven-storey tower, the design of which is reputed to be Chinese at the bottom, Burmese at the top and Thai in the middle. Fortunately there is a cable car to take you to the top where you will be confronted with an impressive 36.5-metre high statute Kuan Yin, the goddess of mercy.
Cheong FattTze Mansion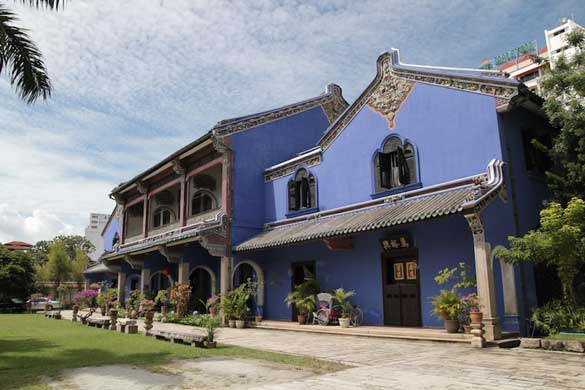 Exterior view of the Cheong FattTze Mansion. Image source wikipedia
There aren't many hotels which can claim to have been the setting for Oscar winning movies but this former residence is one of them, Indochine, which starred Catherine Deneuve. Originally built in the 1880s by a wealthy Chinese merchant, Cheong FattTze, this mini palace has 38 rooms, five courtyards, seven staircases and 220 windows. Instantly recognizable for its indigo exterior lime-wash imported from India, it also features tiles from Stoke-on-Trent in England and ironwork from Glasgow, Scotland. Built on strict FengShui principles, it was saved from ruin in the 1990s and now operates as a 16-room B&B but you can take a tour even if you're not a guest.
Botanical Gardens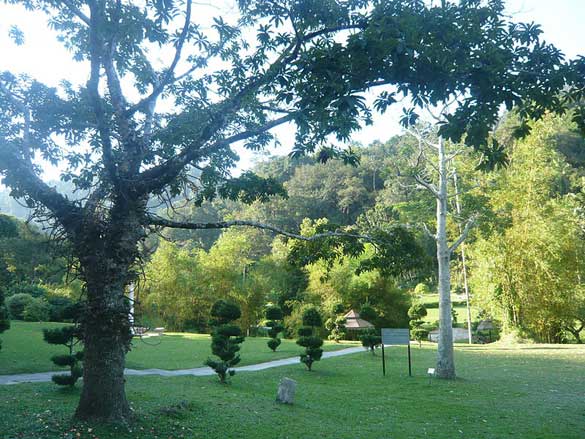 Penang Botanic Gardens. Image source wikipedia
For some tranquility in the bustle of the island, the gardens at the foot of Penang Hill are a must. Also known as the Waterfall Gardens for the stream that runs down from the hill or Monkey Gardens after the long-tailed macaques that inhabit it, it was originally a quarry until the gardens were founded by a British plant collector, Charles Curtis, in 1884. Now home to an orchid house, palm house and cactus garden, you'll also see giant squirrels, exotic bugs and velvet butterflies as well as locals practicing t'ai chi.
For a small place Penang certainly packs a lot in and visitors certainly won't have a problem filling their days.