Sleeping under the stars and in the sand is the perfect travel trip for anyone who loves camping as much as they love the ocean. Pitching a tent on a sandy shore is an amazing summer vacation experience, but unfortunately, they don't let you do that on just any beach. The majority of beaches have laws against spending the night on the sand, but the ones that encourage it are perfect for doing so – and the United States has plenty of lovely beaches to offer. Try out one (or more!) of these four locations this summer!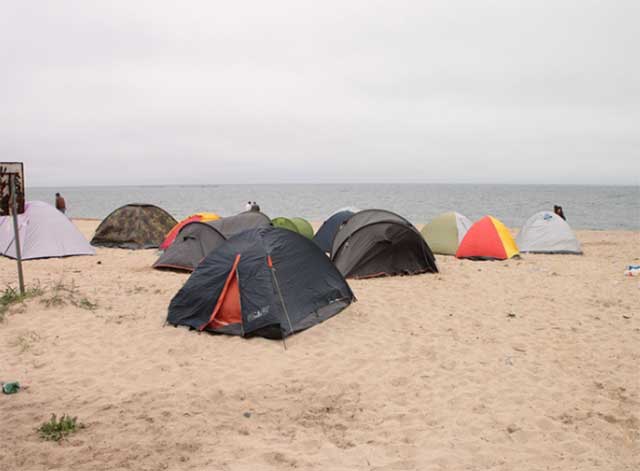 License: Beach Tent Camping Emilian Robert Vicol
California: Jalama Beach County Park
Don't be fooled by the proximity to Santa Barbara; Jalama Beach is the perfect low-key location for beach bums and lovers of the ocean alike. This beach is set up with traditional campsites right on the beach with picnic tables and fire rings. It's dog-friendly, but if you're looking to get away from civilization, this probably isn't the location for you; it is in walking distance of a few restaurants and shops.
Florida: Long Key State Park
This waterfront campground is nestled in a private section of the Atlantic ocean and allows for snorkeling and nature walks all in one. Pitch your beach tent on or near the sand before kayaking the canoe trail or sunbathing by the ocean. Enjoy the amenities of each campsite, which include electric hookups for lights and heated showers.
Maryland: Assateague Island National Seashore
This park has roomy, sandy campsites to offer you as well as hiking trails (this island has wild ponies!), picnic tables, and grills. They're perfect for a family vacation or a romantic getaway because while quiet, they're not inconvenient – the boardwalk is in walking distance and so are restrooms at any point. It's the perfect way to experience the Atlantic Ocean and grab some seafood if you're feeling like having a night out.
Texas: Padre Island National Seashore
If you're looking for the largest private section of barrier island in the world, you've come to the right place. This park is best known for its incredible scenery and is perfect for windsurfing due to its proximity to Laguna Madre, a hypersaline lagoon. Each campsite offers the basics – fire rings, clean water, and small electricity hookups. Just remember that in Texas the weather can be a bit temperamental, and since this park is open for camping year-round, you might want to check the weather reports (and still pack a sweater…just in case) before you go.
Eric Regan is a writer with a keen interest in travel, cars and technology. He has written for blogs covering all of these topics and much more