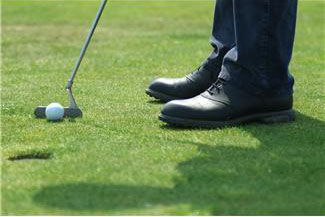 License: Royalty Free or iStock source

When most people think of Vegas, they think of clubs, pools, and blackjack tables, which are undoubtedly some of the main reasons people vacation there.
With high class resorts and always something to do, it's no wonder that Vegas attracts the kind of people that make it even more so appealing. Michael Phelps, 18 time Olympic gold medalist, was recently spotted partying hard at the Hyde nightclub in Bellagio.
But there's more to do in Vegas than partying until the sun rises.
According to a stats and fact report by the Las Vegas Convention and Visitors Authority (LVCVA), nearly 39 million visitors flocked to the Strip just in the last year alone. Of these visitors, over a million go for the sole purpose of golfing.
If you are still planning your next golfing vacation, here are some tips to getting the most out of your trip.
Research the top golf courses
The first thing to do is to think about which course(s) you are going to play at. Start by asking your friends for help on which golf courses in Las Vegas they recommend. Then you can always narrow your choices by doing more comprehensive research online.
The next step is to schedule and confirm bookings at the destination of your choice. Once everything has been verified, it's important that you print out and bring all the documentations for proof of your reservation.
Book a hotel
Most golf courses in Las Vegas are fairly close to the Strip but your hotel choices aren't limited to this location alone. Planning your trip months in advance is important as you could be paying much more than anticipated by waiting until the last minute. Many hotels and courses have package deals for you to take advantage of.
Prepare your equipment
It's never too late to begin getting your things ready. Start by checking and carefully inspecting all your clubs. Then confirm that you have all the necessary items such as tees, golf balls, gloves, shoes and bags prepared. Make sure to also check the dress code of the club you intend to play at and plan accordingly, many courses have strict dress guidelines that must be followed in order to play.
The golf courses in Las Vegas have been rated as some of the best in the world. Make your next golfing trip an unforgettable experience by making it in Vegas.
Sadie Mclain is an avid traveler and writer. She enjoys writing about her latest trips and excursions.