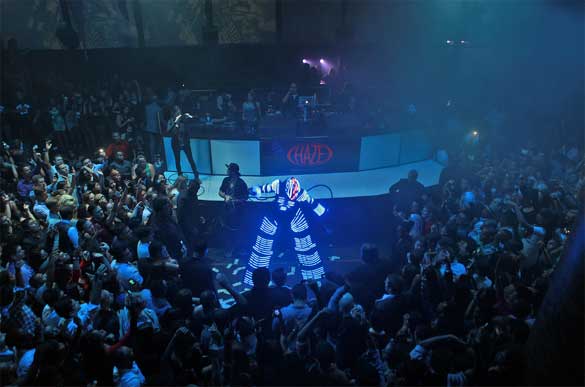 Haze nightclub – Photo © HazeNightclub
Leading hospitality development and management company 'The Light Group' (creators of the Light Club at Mandalay Bay) brings another treat for all party lovers in Las Vegas; Haze nightclub at ARIA. With cutting edge aesthetic designs that challenge your sense of perception and reality, Haze promises to deliver the magnetic energy that sin city is all about; drinks, music and a sea of people dancing like there's no tomorrow.
Operating from Thursdays to Saturdays from 10pm to 4 am, Haze only entertains 21-and-above year old party enthusiasts, as is the norm with all Vegas nightclubs. With queues that extend all the way from the lobby to outside the club, you'd think you won't get the chance to see what's inside, but the wait is definitely worth it as Haze provides an atmosphere and truly captivating visuals that tantalize your senses.
Atmosphere
The venue is rather small, with two levels accommodating up to 1,697 people. There is a huge elevated DJ booth surrounding the dance floor, made in a manner which at first sight might come off as an architectural error, but that was the plan; to have the DJ right in the middle of all the action. Other salient features include a state-of-the-art Avalon sound system, a 70-foot LED light wall, the occasional aerial-dancers and interactive projection screens navigating the space on five moving-trusses producing a surge of sights and sounds in tandem with the electrifying music played by one of haze's many world renowned DJs. With an atmosphere reminiscent of Ibiza, Haze seeks to provide club goers the complete Las Vegas party package.
A row of tables on the same level as the dance floor and another elevated row to the right of the DJ booth ensures ample space for those looking for table service.
Near the entrance is perhaps the most peculiar feature of the club; a see-through wall looking into a voyeur room where you'll find a couple of very sexy women dressed in rather odd clothes. This is part of the entertainment spread all over the club; you can spot these women rotating out of the room and serving up shots around the club throughout the night.
The second level hosts a bar and VIP booths overlooking the main dance floor. However, the two levels aren't quite separate from each other, so they don't exactly have their own vibe like most Vegas clubs with fully distinct rooms, they do however provide alternative chill-out spots. With three bars (two downstairs and one upstairs), a good amount of people can actually be found dancing near one of the bars as opposed to the dance floor as there is plenty of space around them; they almost serve as a second dance floor.
Critics have had several complaints with respect to the club's size, table placement, attitude of attendants and bartenders, broken glass on the floor, raunchy crowds and loose enforcement of the dress code.

Photo Credit: HazeNightclub
Dress Code
It goes without saying that the club demands a trendy Vegas-appropriate attire. Don't expect to get in if you're clothed in sportswear or baggy clothes.
Music
Resident DJs DJ IKon, DJ Karma and DJ David Christia provide you with a heart pumping selection of world Top 40, house and hip-hop music to dance the night away to.
Thursdays: Industry Thursdays with DJ Que.
Fridays: Fridays at Haze with DJ Earwaxxx.
Saturdays: E-Rock Saturdays with DJ E-Rock.
Upcoming Special Events
July 25th: The League of Nightlife Heroes Episode 2.
Aug. 10th: Drop City Yacht Club performs live.
Aug. 31st: House of Pain with T-Pain.
With A-list celebrities in attendance, superior service, astonishing visuals and lots of beautiful people to mingle with, you will absolutely love a night at Haze, and hate the morning after (if you know what I mean). A trip to Vegas is essentially incomplete without visiting Haze nightclub as it has redefined nightlife standards in Las Vegas and seeks to offer you one of the most electrifying and memorable nightclub experiences.
Kevin O'Connor wrote this article about Haze, one of the most popular Las Vegas nightclubs.