If you are planning your honeymoon and you want the most exotic and romantic location, Thailand is your dream destination. It is among the most romantic places for honeymooners worldwide. From pristine beaches, cosmopolitan cities to gorgeous mountains, Thailand has more to offer for a romantic getaway. Thailand honeymoon can be adventurous and active or relaxing and peaceful just the way you want it. Here are top 5 destinations in Thailand for honeymooners.
Koh Samui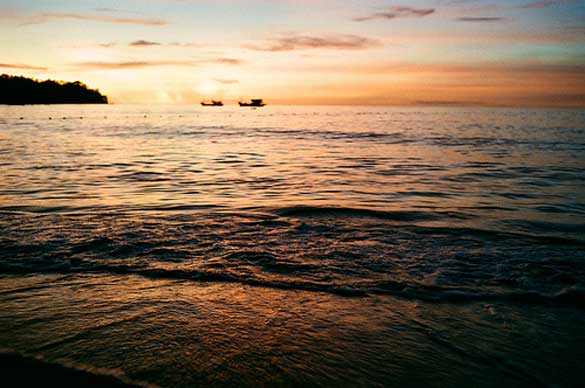 License: Creative Commons image source
The most famous honeymoon spot is Koh Samui. This is the largest island in the Gulf of Thailand with plenty of gorgeous beaches, finest resorts and remarkable diving spots. The island interior is filled with soft rolling hills and coconut trees. Koh Samui Island constitutes the Angthong Marine Park which is a few hours by boat from Ko Tao and Ko Phangan. Therefore, there are great opportunities for relaxation and exploration for couples including scuba diving, kayaking and snorkeling.
Krabi
Krabi is less famous than Phuket and Samui but not less romantic and beautiful. The relative peace and calmness, clear waters and dramatic cliffs make this seashore a great Thailand honeymoon destination. Krabi is near Phuket and other major islands like Phi Phi in Andanman Bay. Therefore, it's an excellent base if you wish to explore other regions. Railey Beach is an exotic spot perfect for newlyweds the beach is accessible by boat.
Phuket
This is the largest island in Thai offering visitors any kind of experience they want both luxury and romance. If you are looking for fun, popular beaches like Kamala and Patong are ideal. However, most couples would like somewhere relaxing and peaceful such as Kata Beach, Nai Hark Beach and Surin Beach. Phuket is breathtaking when it comes to honeymooning. Couples can get a boat ride and visit James Bond Island, eat delicious seafood and have champagne as they listen to Thai band or just sunbathe on the beach and relax. Moreover, the island has amazing honeymoon packages to suit your budget.
Chiang Mai
For the best and memorable Thailand honeymoon experience visit Chiang Mai City. Charming boutiques, lively street life and ancient temples make Chiang Mai the finest romantic break for culture and history lovers. If the outdoor life is too vibrant for you then the mountains surrounding this city is green and lush offering outdoor adventure ranging from river rafting and elephant rides. You can also enjoy your day hiking along the mountainous areas.

Hua Hin
Hua Hin is a great spot for honeymooners. It is not just the home of Thailand King but also a small fishing village offering romantic hotels, villas, horse riding and fresh seafood restaurants situated on the piers that stick out in the ocean. Hua Hin is a favorite Thailand honeymoon spot for couples to enjoy and have a time of their life away from the busy city life. It is only a 3 hour drive from Bangkok however it seems like a different world. Hua Hin is not overdeveloped but there are plenty of exciting activities to do.
Thailand is popular among couples for great reasons. Thai locals are friendly and nice to visitors and offer the best hospitality experience. Thailand honeymoon can cost you less than other honeymoon spots around the world.
Jack Jenkins is a traveler located in Bangkok, Thailand.