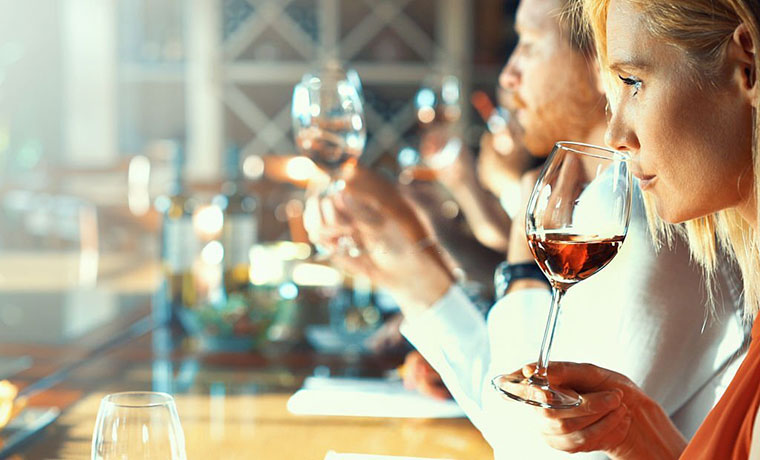 Wine-Tasting In Brenham: January 18th is not too late to celebrate the New Year, and in the lovely town of Brenham in Texas, the Uptown Swirl party is just under way. Right in the heart of Brenham's downtown district, visitors will enjoy touring the quaint stores that serve delectable wine for the vino connoisseur in you. Starting at 3 pm, you can pick up your glass at the gazebo on the square, and get up and go sample the wines in participating stores. If you're planning to go, make sure to drop by these great restaurants and enjoy your wine as you take on a snack or a full-meal course!
Ernie's Restaurant
Right in the heart of Brenham's historic Navratil building is Ernie's, where you'll experience American bistro dining at a very intimate atmosphere. Service is personalized and they make dining a leisurely experience—not meant for people who are used to fast food. Visit the place for a late lunch and you'll enjoy their famous fish tacos and beef tenderloin. Another great tip: Ernie's uses grass-fed meat, organic produce and locally made products when available. After a delicious meal, head on out and continue with your stroll downtown.
Yumm! Sweets & Eats
Yumm! A pizza place, sandwich shop, and ice cream parlor in one. That sounds good to me! Recipient of TripAdvisor.com's Certificate of Excellence 2013, the local restaurant opened in 2011 but making waves in the community in a blink of an eye. If you're not too concerned about your diet, try the bacon cheeseburger pizza that you won't find in your regular pizza chain. The Caesar's salad is also to die for and for a small order, you'll definitely be bringing home a box of leftover. Check out Yumm! and it's worth a stop!
Kay's Cuisine for the Soul
Being number 1 out of all the restaurants in Brenham definitely says it all! Kay's Cuisine for the Soul is will not disappoint you with its excellent food and personalized service. Founded in 2010 by owner Kay Birscoe, the restaurant was converted from an old house, which adds to its homey and comfortable surroundings. Don't resisit their Asian-grilled chicken salad, parmesan chicken tender meal, and the grand marnier poundcake for dessert. More pictures of their hunger-inducing dishes are on their website if you are keen to get to know their menu better.
Must Be Heaven
Let Must Be Heaven take you back in time when ice cream parlors and hand-crafted sandwiches bring back good memories of pre-fast food days. I would highly recommend their broccoli cheese soup and grilled chicken club. Plus, of course, lest I forget, their pies… their pies! Must Be Heaven pies are their trademark dishes and the most popular dessert in all of Brenham. Their homemade pies are baked fresh every day so you can expect the highest quality of ingredients with TLC! Try something sinful like adding a scoop of ice cream topping on the pie for an extra heaven experience.
I hope I got you hungry enough until the Uptown Swirl event! At a small price of $25, you get to taste more than 20 different wines and bring home a commemorative wine glass. Starting January 1, tickets will be at $30. If you're coming from out of town, book a room at Murski Homestead and enjoy your stay in Washington County with the inn's great hospitality, as well as outdoor spa and breakfast-in-bed packages. It's definitely as good as it gets!
Andrea Barnes is a travel blogger and besides the historical places she has visited, she looks for the local delicacies and dishes available in her destination. After all, that's what traveling is about, a symbiosis of gustatory and ocular delights.