Rice, protein, vegetables – and maybe some aromatics and spices. This holy alliance forms the basis of many keystone dishes across the global culinary diaspora. Practically every culture has a flagship rice dish. Whether jambalaya, risotto, takikomi gohan, arroz con pollo, bibimbap, paella or nasi goreng, these comestible staples proliferate from country to country and serve as powerful cultural touchstones.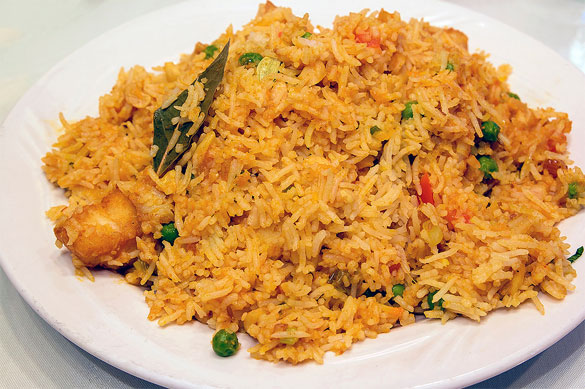 Photo Credit: JPLPhotographyPDX
The country of Kuwait is no exception. The Gulf state may be small, with less people (2.7 million) than a small city in China, but the importance Kuwaiti culture places on food is massive. And one dish, in particular, garners more attention than any in Kuwait: biryani.
Rice, protein, vegetables, aromatics and spices – all the elements of biryani are present in scores of other benchmark and gold standard rice preparations from Brazil to Bangladesh. But Kuwait's interpretation of the dish is no less special or venerable. And you can get it everywhere in Kuwait City, from a small mom and pop restaurant to the fabulous restaurants at the Jumeirah Messilah Beach Hotel & Spa.
Biryani, of course, is not necessarily specific to Kuwait. A mainstay on Indian and Pakistani restaurant menus, the aromatic concoction of basmati rice with chicken or mutton or fish or seafood, and/or eggs and vegetables has origins (so cultural and food anthropologists posit) in the Mughal Empire of North India, some 500 years ago.
The name biryani is thought to come from a Persian word that sounds basically the same, which translates as "fried" or "roasted". This etymology results in variants such as biriani, biriyani, buriyani, beryani or beriani on menus everywhere. They all refer to the same dish, which of course is still a chief element of the Subcontinental and South Asias diet, from Hyderabad to Dhaka, Karachi to Lahore.
We can thus speculate who introduced Kuwait's national dish to the country in the first place. The country's demographics tell the story. There are over 1.1 million people in Kuwait with origins in South Asia, from India to Sri Lanka. That translates into roughly 40% of Kuwait's total population. No wonder biryani is such a big deal.
Naturally, as a maritime country on the Arabian Peninsula, a typical Kuwaiti biryani makes use of regional fresh fish, such as zubaidi (pomfret), hamour (grouper), safi (rabbitfish), chan'ad, and sobaity (seabream).
Recipe for Fish Biryani
500 g white fish
½ tablespoon oil
For the marinade:
3 tablespoons sunflower oil
2 tablespoons lemon juice
75 g green onions, chopped
1 teaspoon ground anise
A pinch of cayenne pepper
1 teaspoon ground cumin
1½ teaspoons garlic paste, or 1 clove garlic, crushed
½ teaspoon ginger paste, or very finely chopped ginger
½ teaspoon ground turmeric
Salt and pepper
For the rice:
350 g basmati rice
2 bay leaves, torn in half
10 cm (4 in) cinnamon stick
15 g butter
2 tablespoons chopped fresh coriander
For the garnish:
sprigs of fresh coriander
Directions
Mix all the marinade ingredients together and season with salt and pepper to taste.
Cut the fish into cubes and put them in a shallow dish. Add the marinade and mix gently. Cover with cling film and leave in a cool place for two hours, minimum, in the refrigerator. Bring the fish back to room temperature.
Heat the oven to 150°C and heat a cast iron skillet to high. Brush it with oil. Arrange the fish in a single layer. Strain the marinade, reserve the green onions, and spoon it over the fish. Grill for six to seven minutes until the edges of the fish begin to brown. Turn off and put the fish in foil to keep it warm.
Meanwhile, rinse and drain the rice. Bring 600 ml of water to the boil in a saucepan and add the bay leaves, cinnamon, butter and salt to taste. Add the rice and return to the boil for three minutes. Reduce the heat, cover and simmer for eight minutes until all the water has been absorbed. Take the pan off the heat and leave it, uncovered, for four minutes.
Unwrap the fish, pour the cooking juices into the rice and stir them through. Place a few pieces of fish and the onions in a single layer in the base of a casserole. Sprinkle with chopped coriander and cover with a layer of rice. Alternate layers of fish, coriander and rice and finish with rice.
Soak a clean tea towel in water and wring it out. Place it over the rice, then cover the casserole very tightly. Bake for 20-25 minutes so the rice cooks further in the steam and all the flavours develop. Garnish with coriander and serve.
Adapted from AllRecipes India.
Jessica enjoys writing about all things food, and loves to take recipes form other people, and improve on them. She hopes to improve some of her favourite dishes, along with many cultural favourites.