Siena is one of the many areas that make up the Tuscany region of Italy. The region is located only 65 kilometers (just over 40 miles) from the region's capital of Florence. The town which is the capital of the area by the same name has been designated a world heritage site by the United Nations Education, Science and Cultural Organization (UNESCO).  Visitors to the area have many exciting adventures awaiting them. Finding a place to stay is an important decision in planning a trip to the region as it offers many different choices of accommodations. Among those is the opportunity to rent one of the villas in Tuscany. They can be found all over the region, including in and around Siena. Once visitors book their sleeping arrangements, they can plan on participating in many activities in the historic town.
Piazza del Campo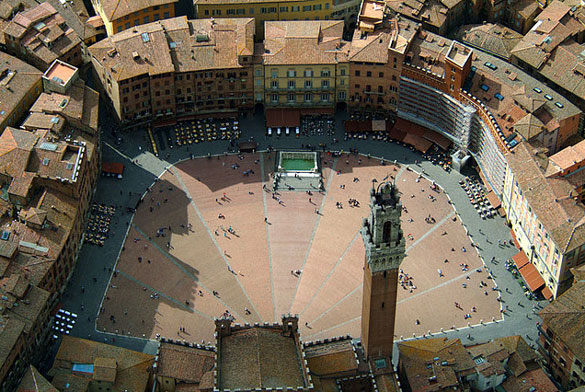 Photo Credit: Klaus Leidorf
The piazza or il Campo as the locals call it is the center of everything in town. If visitors like to people watch this is certainly a location for plenty of that. It is home to some of the more historic places in town. One of the more unique features of the location is the reason the square turns into a big concave shell which is caused by a pattern of nine red bricks. The bricks were laid out in memory of the Government of the Nine that ruled the city from 1292 to 1355.
The Duomo

Photo Credit: Rodrigo Soldon
The Duomo otherwise known as the Cathedral of Sienna is dedicated to Our Lady of Assumption. The Gothic style building is one for every visitor to see.  It is located in the piazza above the Piazza del Campo. The massive structure is home to art from many famous artists including Michaelangelo and Donatello. While it is not free to visit the Duomo the experience is hard to pass up.
Palio di Siena

Photo Credit: t.cochrane
Beyond all of the amazing architecture that Siena has to offer, there are other activities the town is known for. One of the most famous is the Palio di Siena. This is a horserace that is held twice a year, on July 2nd and August 16th in Siena. It is a celebration of the apparition of the Virgin Mary which appeared on a house in town in 1656.
Whether you want to see the many historical locations or participate in centuries old traditions, a Tuscany Villa rental could be the perfect home base for your Tuscan adventure.
Eric Regan is a writer who loves to see what the world has to offer. His articles have covered locations all over the globe.
You map also love reading Tips For Amateur Hammock Campers