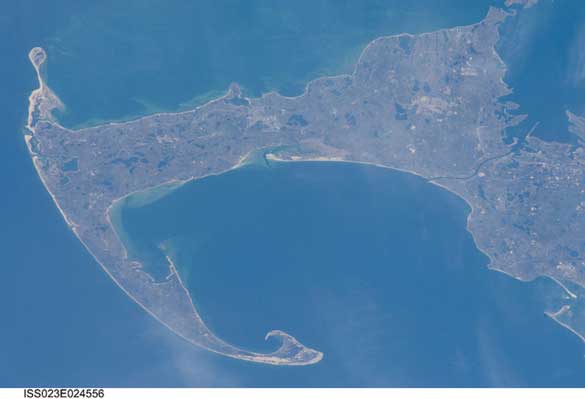 Cape Cod, Massachusetts – Photo Credit: NASA's Marshall Space Flight Center
Whether you're planning a fun trip with the kids or a romantic getaway just for the two of you, Cape Cod offers plenty of summertime activities everyone can enjoy. Cape Cod vacation rentals are an affordable way to spend quality time on the Cape.
From Falmouth to Provincetown, the Cape comes alive in summer. The beaches are some of the most beautiful in New England and Cape Cod offers plenty of outdoor activities from horseback riding, to world-class fishing, kayaking and more. If indoor fun is more your style, there's plenty of shopping and fine dining throughout the Cape. Here are four summertime ideas to get your vacation started: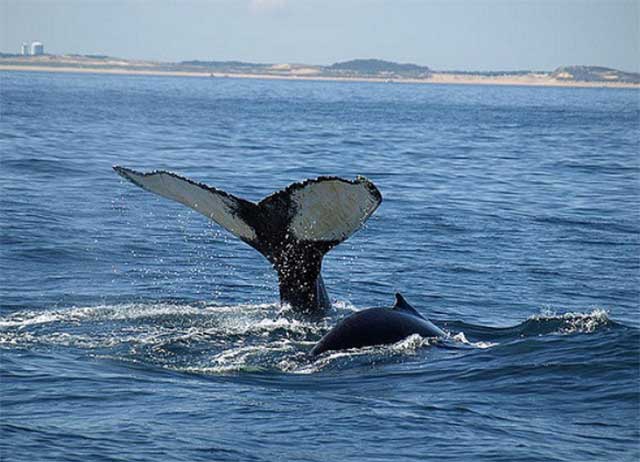 Photo Credit: cyacopino
1. Enjoy a day on the water with the largest mammals on earth! Several whale watching charters leave daily from May thru October from Provincetown on the tip of Cape Cod. Stellwagen Bank, one of the largest feeding grounds for marine mammals on the East Coast, is a short cruise from Provincetown. Humpback and pilot whales, dolphin, porpoise and seals are all common sightings on the Bank. The boats offer climate-controlled cabins, food and beverage services. This is a great trip for the kids and sightings are guaranteed!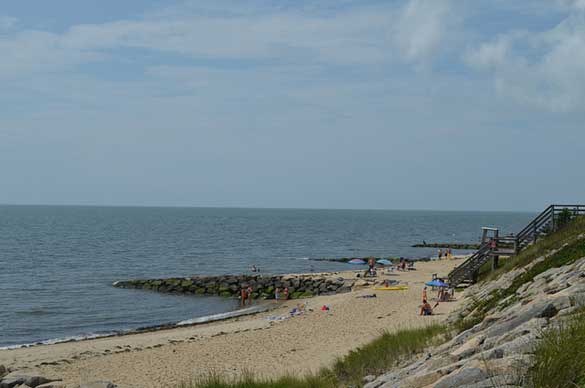 Photo Credit: Dmitry
2. The Cape offers world-class fishing opportunities from the beach or from a charter boat. The bluefish and bass are thick on Cape Cod in the summer. If you love surf fishing, the Cape offers some of the best around. If charter boats are more your style, they leave from towns throughout Cape Cod. Offshore species include giant Bluefin tuna, stripers, cod, mako, blue sharks, and white marlin.
Photo Credit: Sandra A. Pipczynski
3. Take a trip to the past! Visit the Wellfleet Drive-In Theatre. Built in 1957, the Wellfleet Drive-In has been open every summer since its inception. Enjoy first run double features every night all summer long at the only Drive-In Theatre on Cape Cod. Make sure to visit the old school snack bar too! Open from mid-May thru the weekend after Labor Day.
Photo Credit: laurent_davis
4. If you love art, visit the galleries of Provincetown. A stroll down Commercial Street in Provincetown is a perfect way to spend a summer day. The street is lined with galleries featuring the works of the painters, sculptors and photographers that call this quaint place home. When you're finished perusing the many galleries and shops, make sure to check out the amazing restaurants. Provincetown is an art and food lovers Shangri-la!
Photo Credit: Phillip Riggins
Cape Cod during the summer is truly paradise. From beaches to restaurants, there's something every member of the family will enjoy. It all starts with your Cape Cod vacation rentals. Find your base camp and explore the 60 miles of beautiful beaches, quaint towns and summertime fun that is Cape Cod.
Jake Alexander is a free lance writer who loves to blog about travel and vacations. Follow him @JakeAlexander17.