Nantucket, "the faraway land", beckons tourists from all over the world with its windswept beaches, lighthouses, sunny climate and the laid back lifestyle. We'll look at 7 special attractions this tourist-feature-packed strip of land has to offer.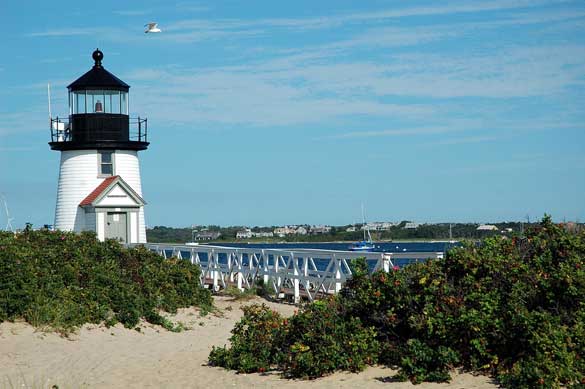 License: Image author owned
Whaling Museum
Originally built as a candle factory, the building was purchased and converted into a museum in 1929. The highlights of the museum include a 46-foot skeleton of a sperm whale that washed ashore in 1998, Nantucket specialties like scrimshaws and lightship baskets, paintings and portraits of seafarers and a view into the island's history. With friendly staff, the Whaling Museum has film shows highlighting major events in the history of Nantucket and its whaling industry.
Miles of beachfront
Most of the beaches on Nantucket are privately owned, but many of those have been graciously given public access.  On the public beaches, it's all family enjoyment. You can walk, have picnics, and play beach games and fish. You can find beaches with any facility you need like, wheelchair-accessible, restrooms, lifeguards, and restaurants.
Brant Point Light
Operational since 1746, Brant Point Lighthouse is America's second oldest lighthouse. Capture some memorable photos from the surrounding beach. The quaint lighthouse has more than 250 years of history. It is a great place to host events like weddings. There is a local legend that says that as you leave for the mainland, you should toss a penny to ensure that you'll return to the island!
Nantucket Atheneum
The Atheneum is an old library with a vast array of books. Together with Wi-Fi and availability of latest magazines, you can see movies and live shows including dance festivals in the surrounding gardens. Settle down in the quiet place and with the help of friendly staff, go through the large selection of books. An old building with lots of history, you wouldn't want to miss this attraction.
Coskata-Coatue Wildlife Refuge
Covering 16 miles of trails and sand roads, you can explore the refuge through interesting guided tours. With ospreys, fiddler crabs, deers, oyster catchers, baby sea gulls and shorebirds, it's an entertaining journey through the island's only wildlife refuge. Watch as the seals play in the water. Take along your fishing rods as surf fishing is one of the best on Nantucket.
Theatre Workshop of Nantucket
The theatre's version of John Guare's "Six Degrees of Separation" is claimed to be one of the finest renditions. Excellent script and acting gives one much to think about regarding issues of class, race and perception of reality. Mostly sold out, it'll be better to book your tickets ahead. Other plays include the comedy masterpiece, "Noises Off" and "Oliver"; it has something for everyone in the family.
As you plan your getaway, don't forget to check out the Nantucket vacation rental homes.  There are some gems to be found for sure.  As important as what you do on the island is, where you spend your down time is also an important part of your vacation experience.
So, what are you waiting for? Book your vacation today and enjoy Nantucket; one of America's most beloved tourist destinations is waiting for you!
Mike did not know where to plan his next family vacation untill he was told about Nantucket. He is so happy that his family and him decided to go because everyone had such a good time.