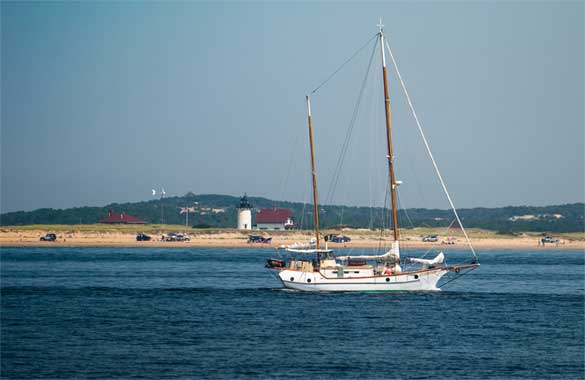 Cape Cod Lights – Photo Credit: Chuck Andersen
Cape Cod is a wonderful place to escape from daily life. A throwback to a time gone by, Cape Cod is a destination filled with New England Charm.  It is remote, surrounded by water, and everyone living there is incredibly friendly. While many people are aware of the quiet charm of the area, what they don't realize is how many activities and events occur there. Whether you plan to spend a long period of time in the area in a quaint Cape Cod summer rental, or you want to visit for a specific Cape Cod festivity, there's plenty of entertainment and events to occupy you throughout your visit this summer.
4th of July
There's just something amazing about spending the 4th of July in New England. Perhaps it's the rich history of our nation that resides in that area.  Perhaps it's the sense of community and warmth of the people. Whatever the case may be, celebrating this all-American holiday is a treat in Massachusetts.
From Cape Cod, hop the ferry over to Nantucket for a wonderful holiday celebration.  There's a whole day's worth of activities to enjoy, either as participant or voyeur. The town comes alive, beginning with a reading of the declaration of Independence. Following that nod to our nation's history, there's plenty to do and see, including a pie eating contest, water battles, and of course, fireworks. Watching fireworks from the beach can be breathtaking, as you watch the reflected light dance on the water.
Charitable Night Out
There's something magical about seeing Hollywood stars in real life – especially when they're a class act like Dermot Mulroney.  If you don't recognize the name, you probably would still recognize his face. This talented actor has worked alongside such big names as Julia Roberts and Jack Nicholson in his impressive acting career; he even was featured in the TV show friends for a few episodes as Jennifer Anniston's boyfriend! Mulroney is appearing for a theater benefit alongside his mother, as they perform a special reading of Peter Pan's Mother. Enjoy a fancy night out, help endorse the arts, and see a movie star all in one night!
Just for Thrills
Haunted houses pop up throughout the nation every year in late September, and most close shop at the end of October. But what about those that stay open year round? There's a lot more entertainment value to be gained from a storyteller who's well-versed in his tales, and not some high school student who's working part-time for a month or two. That's exactly what you'll get when you visit the Barnstable Village Ghost Hunters Tours.
Not for the faint of heart, these tours are for those who either believe in the supernatural, or are at least open to the possibility that ghosts exist. The rich colonial history of Massachusetts is represented well here, as you have the opportunity to view the ghosts of those long passed. Your dollar goes a long way too, as there's a three hour tour for $10. Tours run throughout the summer.
These are just a few activities to consider if you're booking a Cape Cod summer rental.  It's not too late to enjoy a proper vacation this summer. New England has so much going on; there are activities up and down the shore to entertain your whole family!
Jess Holmes is a freelance writer who loves to blog about travel and vacationing on a budget.