Summer holiday packing is easy: throw in a swimming costume, kaftan and some sunblock and you're good to go. Packing for a winter holiday takes a bit more planning. Follow our list of suitcase must-haves and you'll be prepared for anything…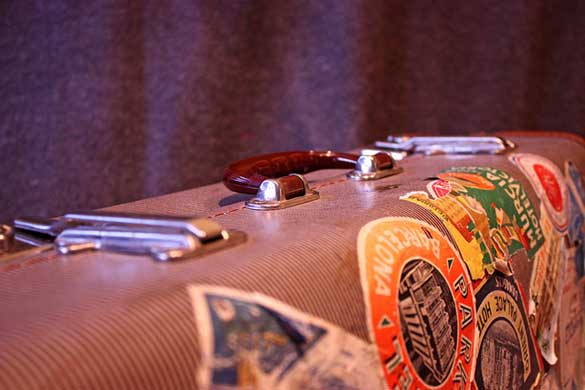 License: Creative Commons image source
1. A pashmina/warm shawl
Yes, planes are heated and you'll get a blanket on a long-haul flight. But the key to staying warm in winter is having layers of warmth that you can slip on easily, just in case. If you get chilly on the plane, this is a godsend you'll thank us for suggesting.
2. Echinacea
Studies have shown that taking a regular dose of Echinacea can prevent colds and help you get better faster. Don't waste your holiday with the sniffles in bed — be prepared.
3. Moisturiser
Winter can wreak havoc on our skin. Avoid scaly skin and dry, chapped lips by packing a heavy duty moisturiser and lip balm. Fans of Elizabeth Arden Eight Hour Cream swear by its multitasking moisturising properties. Go for something you can slap on your hands, face and lips if possible.
Tip: You're only allowed 100ml in your hand luggage, so keep a larger pot in your suitcase.
4. Hat and gloves
You lose a huge amount of heat through your extremities, so a woolly hat and cosy gloves really earn their place in your bag.
5. Antibacterial gel/hand cream
Planes and public transport are a hotbed of germs this time of year. It's unrealistic to ask you not to touch your face at all, so use an antibacterial gel instead.
Tip: Save space with a moisturising hand cream that also tackles germs.
6. Sunblock
People forget to wear sunblock in winter, but it's just as easy to get sunburnt on top of a snowy mountain as it is on the beach. And with cheap flight deals to some of Europe's most stunning landscapes this time of year, it would be a shame not to enjoy them at their snow-capped prettiest.
7. Thermal layers
When you're pushed for suitcase space, you can't bring all your winter jumpers. Seasoned cold weather travellers pack thermal layers (preferably in merino wool), which are lightweight but help your body retain heat. Long johns won't win you any fashion points, but they will keep you snug.
Tip: Roll your layers up so they take up minimum space.
8. Good walking boots
This is non-negotiable. If you plan to do any hillwalking or are going somewhere with the remotest chance of snow, you will be stranded at your hotel without proper winter boots.
While Paris and New York have great subway systems, some cities are best seen on foot. Take something reasonably waterproof with sturdy soles and toasty lining and you'll be a match for the worst that winter can do.
Domenica McKenna is a travel agent coming from Norther Ireland. Domenica wrote this guest post for Aer Lingus.