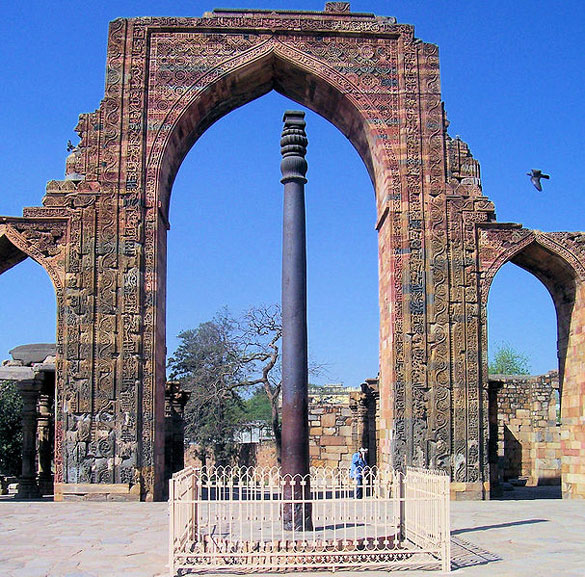 Image Source Wikipedia
Iron Pillar: It is one of the most mysterious of the landmarks of Delhi. What is more, we get an idea of the excellence and superiority of ancient Indian mettalurgy by simply gazing at the Iron Pillar of Mehrauli. Historians believe that Chandragupta Vikramaditya also referred to as Chandragupta II (AD 375–413) of the Gupta Empire fashioned the iron pillar of Delhi.
It is still a matter of conjecture as to how this solid piece of iron – which is 32 feet 8 inches in height and weighing 500 maunds – was fixed at the centre of the courtyard of the Quwat-ul-Islam mosque within the premises of the Qutub Minar. Ancient scriptures have it that this iron pillar was fastened by eight strong bars at three feet under the ground. Its diameter at the base is 6 feet 4 inches while it is 2 feet 4 inches at the top. The typicality of the iron pillar is that it has remained rust-free since it was built in the 5th century. Its surface is extremely smooth with some strange characters inscribed on it in Sanskrit. It is believed that your wishes would come true if you could make that wish while hugging the pillar backwards – which of course is not an easy task.
Persian invader Nadir Shah defeated the Mughals in the Battle of Karnal in February 1739 AD. He not captured Delhi but also looted the city and took away the golden Peacock Throne of Mughal emperor Shah Jahan (built in the early part of the 17th century) with him to Persia. It was during this time that he was taken by surprise by the magnificence of this pillar and out of sheer jealousy tried to destroy it several times. However, he failed in each attempt. He even tried to shoot off the crown of the pillar. The marks of the failed shots are still evident on the pillar.