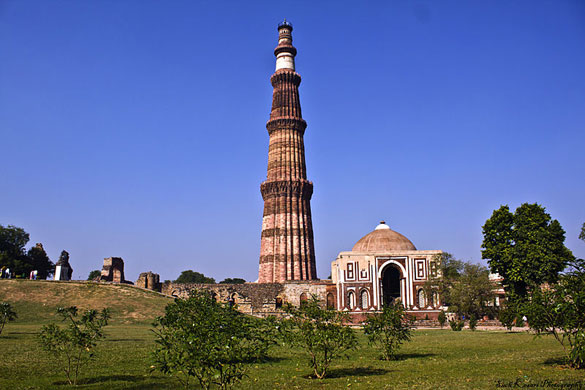 Image Source Wikipedia
Qutub Minar: Standing at 236 feet (72 m), this victory tower was built by Sultan Qutab-ud-din Aibak to commemorate his victory over the last Hindu kingdom and his capture of Delhi in AD 1193. One of the finest examples of Islamic architecture it is made of red and buff sandstone. The walls feature intricately carved with calligraphy of Koran quotations. Located high above the Lalkot Smarak, this minar (stone tower) is one of the most popular landmarks of Delhi.
The fluted form of the minar allures an illusion of a height that is much greater than it actually is. This happens because it tapers from a 50 feet (15 m) diameter at the base to a mere eight feet (2.5 m) at the top. This tower of five stories can be divided into two sections depending on the construction materials used to build them. For instance, the first three floors from the ground are made of red sandstone while the remaining top two floors are made up of both red sandstones and white marble. The interesting fact is that the ground floor was constructed by Maharaja Prithiviraj Chauhan. So it was also known as 'Prithvi lat'. However, during the reign of the Muslim sultans, Aibak had the second floor built; and therefore the structure came to be called 'Kutub Minar' in AD1193. After his death, his son-in-law and successor Samshuddin Iltutmish completed it.
According to the Devnagiri inscriptions inscribed on the minar, the structure encountered some weathering and it was restored to its earlier shape by Muhammad-bin-Tughlaq in AD1326. Later on in AD 1368, Ferozshah demolished the topmost floor and constructed two more floors in its place. The maqbares or the tombs of Sultan Iltutmish, Allaudin Khilji, Balban and Adham Khan – the son of the foster mother of Mughal emperor Jalah-ud-din-Muhammad Akbar (AD 1542-1605) are located beside the tower. The Quwat-ul-Islam mosque is also located within the premises of the Qutub Minar.