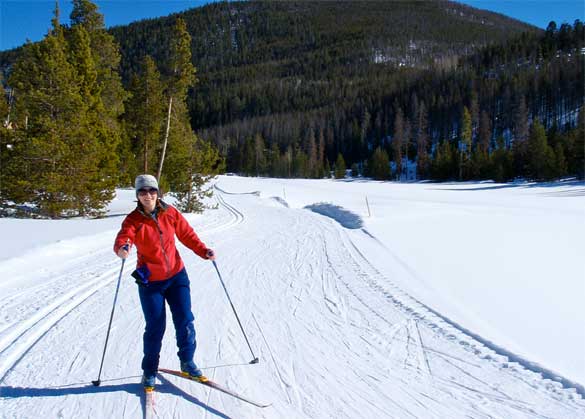 Nordic Ski – Photo Credit: Jessica
More than the slopes
The state of Colorado is known for some of the best skiing the United States has to offer. It's steep and deep during the winter. A lot of people think the whole state is snowed over for half of the year, but that's not true. With 300 days of annual sunshine and temperate weather, Colorado is a great place for summer vacation, too.
Where to go
If you're not headed to the Front Range for a special event, it makes a lot of sense to go west and explore the mountain town charm Colorado is known for. What towns are worth visiting? All of them, of course! But if you can only pick one or two, pick one of these.
Estes Park, about an hour and a half away from Denver, is very close to Rocky Mountain National Park. No matter where you go in the park, you'll be able to see Longs Peak in the distance, one of Colorado's famous 14ers.
Crested Butte, about four and a half hours away from Denver, is worth the scenic drive through the mountains to get there. As you drive, your eyes will be treated to ancient winding rivers, the sort you've read about in poems and geology textbooks.
What to do
Do you like events more than day trips to quiet mountain towns? Do you like your trips to be a little more intense? Colorado has you covered there, too.
The Pikes Peak International Hill Climb happens every year in Colorado Springs, and it attracts some of the fastest cars and drivers on earth by inviting them to race each other up Pikes Peak, "America's Mountain," another famous Colorado 14er. If you want to get an idea of what the racers are up against, drive your own car up Pikes Peak Highway the week before the race. It's scary enough at normal speeds!
If you prefer your sports self-propelled, Trail 401 in Crested Butte is amazing on foot or by bike during the Crested Butte Wildflower Festival, when the flowers are in full bloom. Imagine bombing down single track that's a couple days from being overgrown by windflowers. It's like riding through a kaleidoscope.
What to eat
Forget Casa Bonita and get yourself a plate at one of these great Denver food festivals.
A Taste of the Highlands, June 13, 2013. There will be food trucks. The food will be excellent because the residents and business owners of Denver's coolest 'hood will be there to ensure it. Their neighborhood's up-and-coming reputation depends on it.
A Taste of Colorado, August 30, 2013. This event is more your speed if you'd like a wider range of Colorado food and drink to sample. With over 50 of Colorado's favorite restaurants and close to 300 food vendors on hand to sample, you are guaranteed to find something you'll love. Just avoid the Rocky Mountain Oysters, unless you're into eating that sort of thing. Bragging rights, right?
What to drink
We suggest lots of water to help keep you comfortable at altitude. But water is boring, and Colorado is known for craft beer. Be careful drinking at altitude. Alcohol's effects are stronger at altitude, and many craft brews have way, way more alcohol in them than a can of Bud. With over 2800 beers on tap, don't be surprised to find delicious brews with 8-12% ABV in them, assuming your tasters can handle it.
The Great American Beer Festival sells out every year and attracts craft brewers and home brewers alike from all over the world to compete against each other for Gold, Silver, and Bronze medals in various categories. If you love beer, it's the place to be with over 2800 beers on tap. Tickets go on sale on July 31, 2013.
More than meets the eye
Colorado is more than ski resorts. In the summertime, it's all about small towns, great food, and world-class beer. Everything takes place within the unique splendor and spectacle of the Rocky Mountain West. If you've never visited Colorado in the summer, it's time you took the chance to see what you've been missing.
Kamiel Moore is a real estate expert who blogs for We Buy Ugly Houses Denver, a real estate franchise in Colorado.