Location: Burnsville, North Carolina
Carolina Hemlocks, Pisgah National Forest, Western North Carolina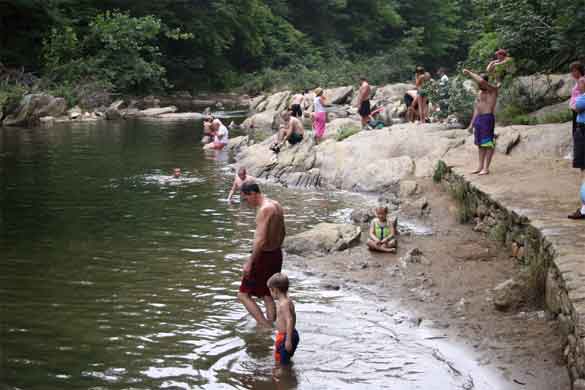 Image Source Flickr
The picturesque Carolina Hemlocks Recreation Area is one of the popular American leisure sites.
Nestled at a height of 2,900 feet in the mountainous region of the Pisgah National Forest, the site is covered by a mix of rhododendrons and deciduous trees, and shaded by a thick hemlock forest.
ANGLING & FISHING: Located near the South Toe River, water enthusiasts and anglers can have a whale of a time. You can also swim, tube, fish, or simply lounge at many of its sprawling sites. Right from the shore you can go angling for smallmouth bass and trout.
PICKICKING: It offers a wide range of activities including camping and hiking. The shaded shelter facility for 30 picnickers is set amidst the verdant woods, and also includes the swimming area. This day-use recreation region can also be reserved. It lies adjacent to the campground.
CAMPING: Campers are served RVs and tents on a first-come, first-serve basis. You can avail of the showers (coin-operated), and buy fire woods as well as rent tubes.
PHYSICAL EXERCISES: You can get a workout on a 3.8 mile trail or opt for a leisurely walk along a one-mile track.
FORMALITIES: Managed by the Cradle of Forestry in America Interpretive Association, the campground fees include maximum 30 people, and five parking passes. Each additional vehicle is charged $3. The gates to the area remain open from 7 a.m. to 10 p.m. during the peak season from April to October. No refunds are given for inclement weather conditions.
OTHER CAMPGROUNDS: There are other campgrounds too. They are run by private parties. There are 36 campsites but none with hookups. Each of these campsites provides the campers with a lantern post, a fire ring with cooking grill, and a table. You would also get flush toilets, showers and drinking water in the lower loop.
RULES: Here are the few golden rules of the Carolina Hemlocks Recreation Area:
* Use the provided bins to secure trash
* Store all food out of site, and only in containers that are locked inside a hard-sided car.
* Remove all food after meals.
* Dogs need to be kept on a leash.