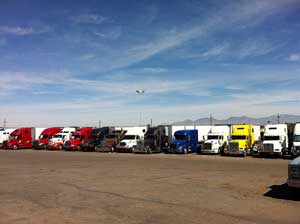 License: Creative Commons image source
For all of the truck drivers and others that spend much of their time on the road, it's important to have a place to stop and rest, take a shower, or get a hot meal. Truck stops have been an important part of America's travel history for many years and continue to be today. Some truck stops are simple and have just the necessities, while others have unique characteristics or comforting amenities that allow for a more interesting experience than the normal rest or truck stop.
Iowa 80 Truck Stop
Location: I-80, Exit 284, Walcott, IA
The Iowa 80 Truck Stop is known as the largest truck stop in the United States. It has numerous features that make it not only the biggest, but arguably the best as well.
Features:
Parking for 800 semis
Dog Washing
Dentist Office
Barbershop
Super Truck Showroom which features wall-to-wall accessories that drivers can purchase to customize their trucks
Derrick Plaza Truck Stop
Location: I-85 Exit 71, Salisbury, NC
The Derrick Plaza is known for helping drivers go green and save on the cost of fuel at the same time. The drivers have the opportunity to plug into an electricity station which will run the heat, AC, and appliances within their truck while being able to shut the truck off.
Features:
Chapel available 24-7
Restaurant available 24-7
Barbershop
Alamo Plaza
Location: I-80 Exit 21, Sparks, NV
The Alamo Plaza is the place for truckers to go and get some rest along with being able to take the time to see if luck is on their side.
Features:
Twenty acre parking lot
More than 250 slot machines
Keno
Blackjack tables
Highland Petro Stop
Location: I-94 and Highway 20, Exit 333, Racine, WI
At the Highland Petro Stop, they know how hard it can be on a driver's back to sit in a truck just about all day every day. Which is why this truck stop has a walk-in chiropractic service available.
Features:
Lodi Travel Center
Location: I-71 and I-76 at Route 224, Exit 209, Seville, OH
The Lodi Travel Center is the perfect place to get a hot cup of coffee and surf the Internet or catch up with family online.
Features:
Internet lounge
Starbucks
Facilities made for truck drivers, which includes marble showers
Jubitz Travel Plaza
Location: I-5, Exit 307, Portland, OR
Being on the road all the time, it's difficult for a truck driver to find to relax and have some fun. At the Jubitz Travel Plaza, drivers have the chance to relax and enjoy live music at the Ponderosa Lounge.You don't need a commerical driver's license to appreciate these cool ammenities.
Features:
Arcade
Cinema
Hotel with upscale accommodations, including a hot tub, as well as economy accommodations
Fine dining
Bosselman Travel Center
Location: I-80, Exit 312, Grand Island, NE
Bosselman Travel Center is a great place for truck drivers to stop and do some errands. They offer everything a driver or traveler would need while on the road.
Features:
Banking services
Game rooms
Mailing services
Laundry facilities
Florida 595 Truck Stop
Location: Intersection of I-595, 441, and the Florida Turnpike, Davie, FL
The Florida 595 Truck Stop is pet-friendly and has some great features for truck drivers and has a medical and dental clinic for those who have unfortunately found illness on the open road.
Features:
Tiki-bar
Game room
Spa
Chrome shop
Alex Faubel enjoys writing about topics related to business and technology in career-focused education programs.