The island of Mykonos, Greece attracts many travelers every year. It's easy to see why, too. The place is filled with beautiful beaches and gorgeous historic buildings. There's also quite a bit in the way of excitement. The nightlife within the region is said to be one of a kind. All throughout the summer months you'll find tons of festivals and activities to participate in and the locals are more than friendly to travelers. It's a great place to spend time and you can see a lot of great things within a short trip, as many of the attractions are located close together. Let's go over some of the best ways to spend your holiday in Mykonos, Greece.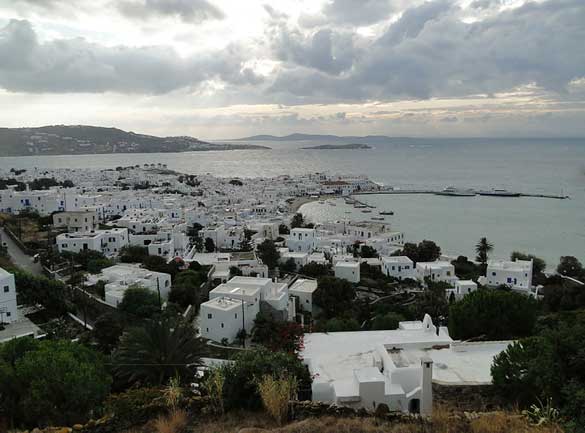 Image Source Wikipedia
Visiting Delos Island
If you're taking a visit to this beautiful island, you absolutely must check out Delos. Delos is a small islet that is located only a few miles from Mykonos. It was once considered to be the birthplace of Apollo and Artemis. You can see all types of beautiful ruins of temples and you can also check out many historic homes and theaters. This is considered to be one of the most historically significant regions within the island. If you're interested in Greek mythology, you'll consider your visit to Delos to be a memorable experience.
Mykonos Beaches
No trip to Mykonos is complete without visiting some of the numerous beaches. You can find some of the best beaches in all of Greece right within Mykonos. These beaches can range from pebbled to sandy and the water is as clear as the sky. You can find beach areas that are filled with parties and crowds of friendly people, but if peace and quiet is more your thing, there's plenty of secluded beaches that are perfect for soaking up the sun. Many of these beaches offer beautiful sights and it's certain that you'll find it hard to leave once you've spent some time there!
Nightlife
Yet another reason why Mykonos is such a popular travel destination is because of its exciting nightlife. All throughout the islands you can find hundreds of crowded bars and clubs that offer lively music and dancing. The people of the region are very friendly and are always inviting to tourists. There are also plenty of luxury hotels in Mykonos, and they usually offer a lot of great nightlife themselves. The parties here last until the wee hours of the morning, sure that you get enough rest for all of the excitement!
Places to Eat
Along with the many other attractions, you'll find that the dining in Mykonos is one of a kind. There are hundreds of restaurants that offer some delicious traditional Greek cuisine. The food here is known throughout the world as being fresh and delicious. You'll fall in love with the French and Venetian influenced Greek dishes that have been perfected over many years.
It's very easy to have a great time on the beautiful island of Mykonos. The people are friendly, the land is gorgeous and the excitement is waiting for you around every corner.
About Me:
Timothy Livingston has worked with several luxury hotels in Mykonos for the past 15 years.