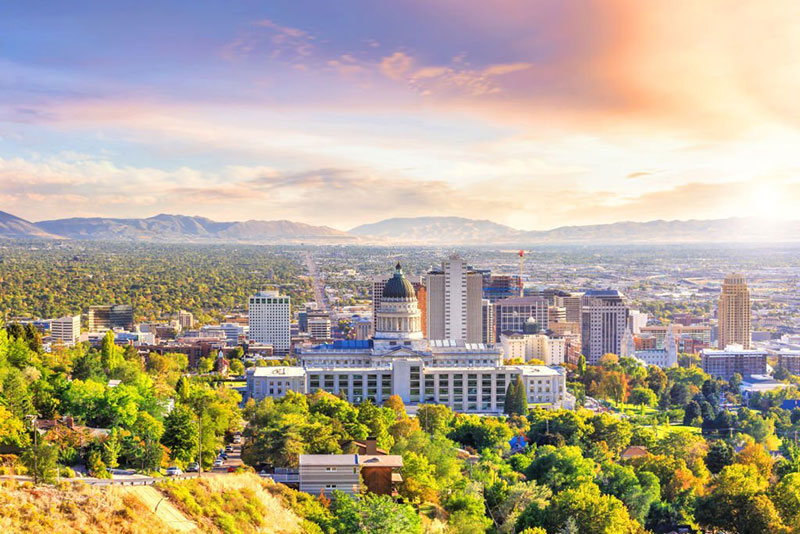 5 Best Burger Joints In The Salt Lake Area: Warning After reading this your taste buds will be watering for a nice juicy burger. Have no worries though; we will tell you where to find one to fit your taste!
Salt Lake City, Utah is known for many things, including being founded by Mormon Pioneers, hosting the Olympics, and awesome ski resorts and National Parks. Tourism has been going up in an abundance of places to visit such as: Park City, Temple Square, Lake Powell, Zion's, Bryce, Capitol Hill, Hogle Zoo, and the Brigham City Copper Mine. But with all the fun going on, you are going to get hungry. And what is the best thing to eat while on an exciting little outing? Burgers of course! Here are some of the best burger joints in the Salt Lake City area that will have your mouth yearning for more.
1. Crown Burgers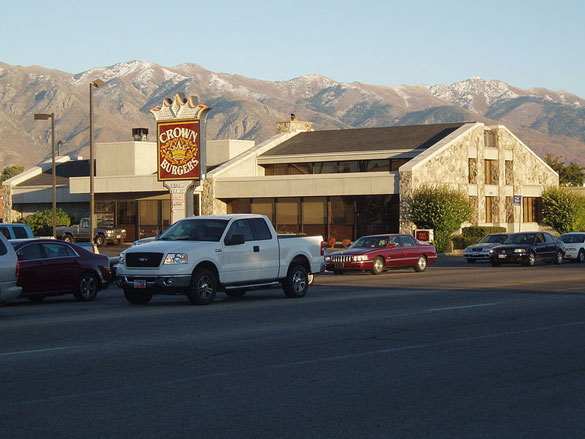 Image Source Wikipedia
Crown Burgers is a Utah owned restaurant that has been getting quite a bit of local buzz lately. John and Rula Katzourakis and Nick Katsanevas opened it in 1978, and there are now seven locations, five in Salt Lake, one in Layton, and one in Sandy. They serve some Greek food as well as burgers, but their crowning jewel is the Crown Burger. It is a quarter pound of delicious meat, with onion, lettuce, tomato, cheese, Thousand Island dressing, and piled with juicy pastrami. It really is something to make your taste buds rejoice.
2. Five Guys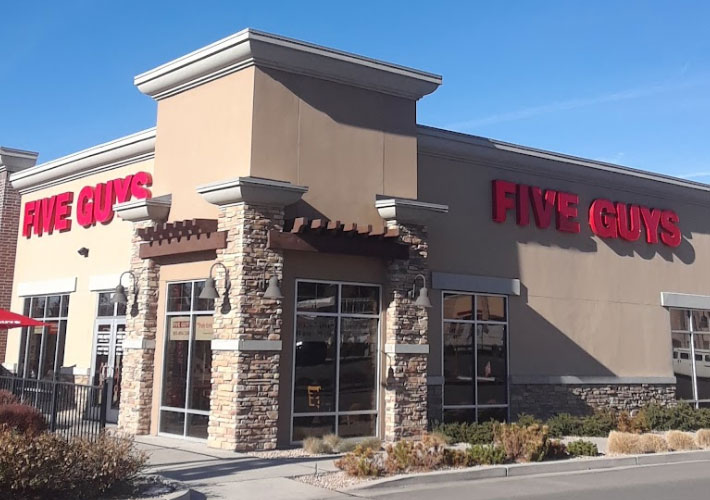 One thing that I love (ok two things) about Five Guys is their free –and unlimited—toppings menu, and their Cajun Fries. I know this is an article about burgers, but it would be shameful to leave out the Cajun Fries, and fry sauce. Anyway, back to the burgers. You have a choice between single and double patties, and an option of cheese and bacon. Then you can choose whatever toppings you want to make your burger any way you would like. My favorite is the sautéed onions and mushrooms, but there is also peppers, sauces, and regular condiments like mustard and pickles. They are located all over the Salt Lake Valley, as well as in Provo Valley.
3. Salt City Burger Co.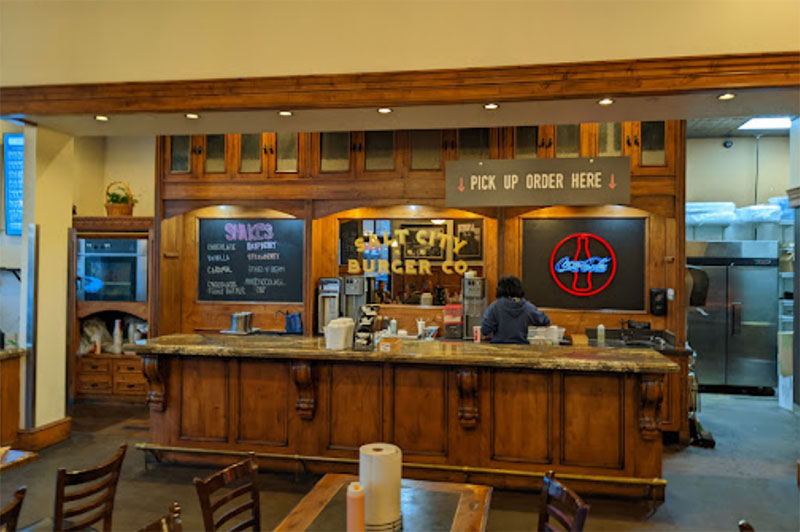 These guys just came out with a brand new burger creation that I am excited to try. It is called the Fajita Burger and is 1/3 lb. patty that is smothered with sour cream, melted cheddar cheese, and fajita peppers and onions. They also have amazing combinations like Hawaiian, Western Southwestern, Garlic, Smokehouse, and Turkey Burgers. They have locations in Bountiful and Sandy.
4. Smashburger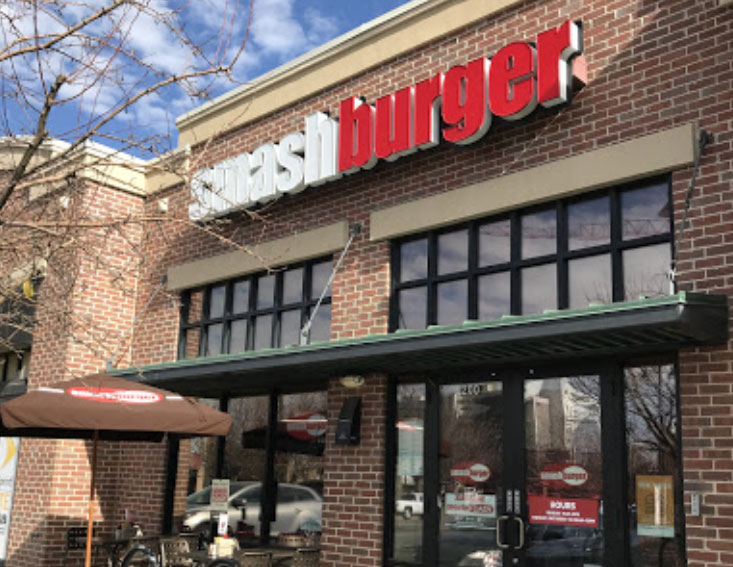 Smashburger has about 5 locations throughout the Salt Lake Valley, and at least one down in Provo Valley. Rick Schaden's burgers are all handmade to order; not frozen patties. They have many delicious choices, from the Classic Smash, to a BBQ, Bacon and Cheddar, a Truffle Mushroom Swiss, Spicy Baja, and an Avocado Club. My favorite is the Spicy Baja, although the Avocado Club is close second. They also have a Create Your Own Burger option, which I think is great. They have Veggie Burger options as well, for those of you who do not eat meat. All in all, a great choice!
5. Spin Café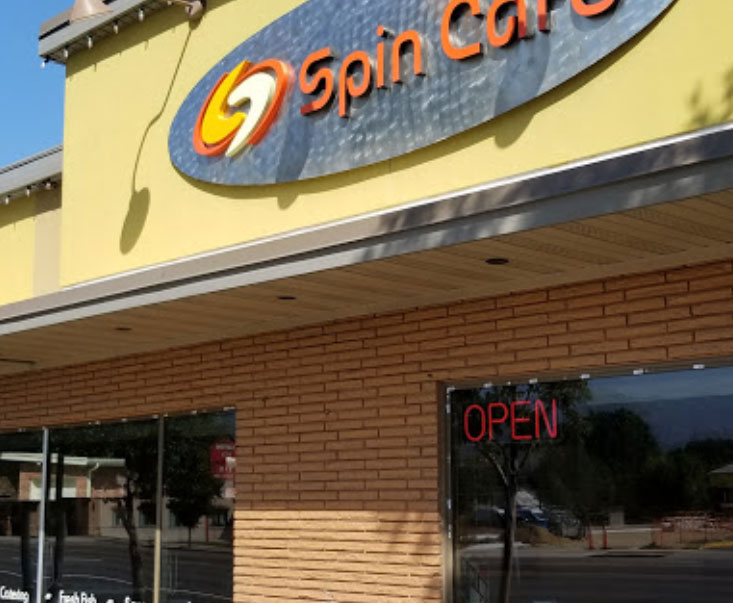 Spin Café is located in Heber City, and I think it is worth the drive. The atmosphere is great, the staff friendly, and the burgers are good. Their signature Spin Burger is a half-pound patty with perfectly caramelized onions, jack cheese, special fry sauce and lettuce on a potato bread roll. They even have an entire menu of just gluten free foods!
There you have it! The best burger places in the Salt Lake area, for your every taste and whim. Now if you will excuse me, I need a burger!
Nina Hiatt researches and writes articles to help people find balance and beauty in their personal space through landscape and interior design. In her free time, Nina blogs about many of her interests, which include gardening, technology news, food, cooking, and baking. Share your view on "5 Best Burger Joints In The Salt Lake Area" in the comment section below.