If you have been polishing your Russian within four walls of your language school, it is time to try it out. If you do not speak any Russian but have done most of the exotic places on Earth, Russia is the one that requires special attention – Siberia to be exact. One of the most important things to remember about Siberia is at 10 million square kilometres, it is very vast. The second thing to consider is that the west of Siberia is covered by a swampy plain, the central plateau is heavily forested, and the east has mountains soaring to above 3,000 meters. While not all of Russia is as extreme, the north part of Siberia is extreme tundra, where temperatures can hit -68°C in winter.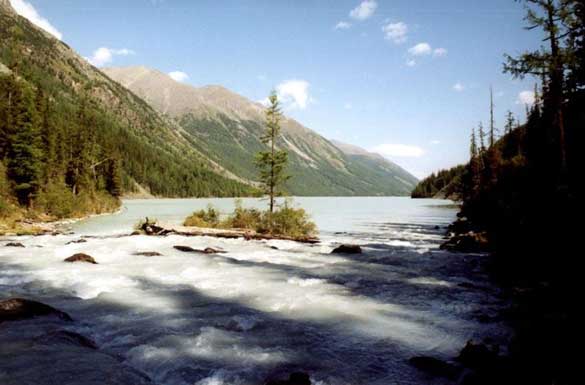 Altai, Lake Kutsherla in the Altai Mountains. Image source wikipedia
Now when you are relaxed and ready to travel to a cold and unpredictable part of the world, here are some tips about where to go, what to do and how to survive.
One of the most popular trips to Siberia is by train. The Trans-Siberian Railway adventure starts from the official heart of the country, Moscow, and goes all the way to Vladivostok. The whole trip is 9,289 kilometres. When you arrive in Siberia, there are many things to do. You can busy yourself with mushroom picking, hiking and biking, alpine sports, cross-country skiing, dog sledding, reindeer herding and for especially spoiled tourists, ostrich chasing.
When you travel through the Siberian part of Russia, there are several special towns to visit. For example, Tomsk and Tobolsk are the most memorable and could be your first stops and visiting Omsk and Krasnoyarsk will give you a better understanding of Russian culture. Away from the railway tracks in Tuva, Altai, Buryatiya and Khakassia, local Buddhist and shamanistic will teach you their spells, helping to re-discover Russia in a new different perspective.
Russia always offers warm greetings, hot tea and cold vodka for everyone travelling through the country. However the weather can often be unwelcoming with its very hot summers, extremely cold winters and rainy spring and autumn. In 1924, Russian scientist Sergey Obrychev registered the lowest temperature −71.2 °C (−96.2 °F) recorded at Oymyakon's weather station. This is the lowest recorded temperature for any permanently inhabited location on Earth
Everywhere you go from the Ural Mountains to the great Lena River Siberia will astonish you with its size and culture.
Siberia has many spots to visit while travelling, from the capital to the far east. The vast Lake Baikal stretches 636 km from north to south and is one of the most popular sights to visit in Siberia. Did you know that it is 1637 km deep which makes it the deepest lake on Earth? Apparently it contains one-fifth of the out planet's unfrozen water which is even more than the Great Lake in North America.
Siberia is an Asian region of Russia and therefore differs significantly from the western part of the country. It's also on the border with Mongolia and China, which could become your next adventures; when or if you manage to explore at least half of Siberia.
Choose your travel season wisely when packing for Siberian trip. As your luggage gets fatter, check if you have warm and comfortable clothes rather than jewellery and high heels. Summer, in most cities, is very hot so plan appropriately. You can never be fully ready for Siberia so simply embrace the adventure.
There are many locations around the world that you might not consider when you start to plan your next holiday. For other travel destinations and ideas you might not have thought of, visit Antipodeans Abroad.