If you're seeking for calm, soothing and beautiful natural attractions then Nigeria "The Naturally Picturesque Heaven" is an idyllic choice for you. Nigeria is naturally blessed with numerous natural resources and it offers the tourists long blue beaches, rivers, lakes, forests, wildlife, breathtaking views of waterfalls, springs, mountains, rocks and soothing environment.  Mostly tourists come over here to enjoy the scenic beauty and natural beauty is a main factor behind the up-grading of Nigerian tourism. The hospitality of the natives is also an essential factor of the up-grading of Nigerian tourism. So get up, get on your heels, grab your camera andlook down in the article for top tourist attractions in Nigeria and choose the best destinations for you and your loved ones.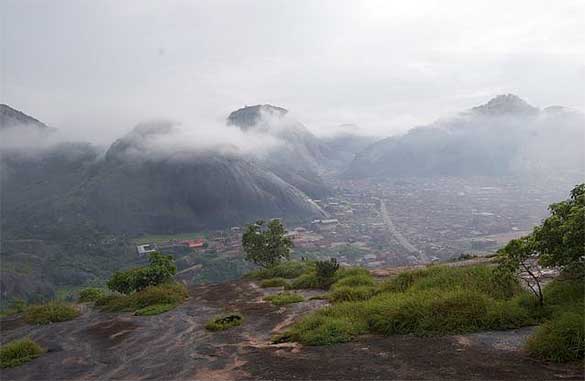 Photo Credit https://www.flickr.com/photos/selenamarie/ Flickr
Idanre Hills – OkeIdanre: This is one of the most stunning and wonderful natural landscape in Nigeria. It is situated in Idanre town, about 24 kilometers southwest of Akure, Ondo State Capital, as a natural and cultural landscape, Idanre Hills stands out well among all other places that have been listed in UNESCO world heritage sites. It is a cluster of marvelous hills comprised of some wonderful things which confound the senses.
Ibeno Beach: Ibeno beach is one of the numerous fine beaches in Nigeria situated in AkwaIbom State. Alover of water sports finds the beach which stretches to James town on the Atlantic most inviting.
Ogbunike Cave: This cave can be described as the very wonder of the nature. The cave, segmented into sections, is found in Anambra state, some few kilometers away from the Ontisha market town. There are different stories about the various sections that constitute the cave. The stories are better told by the local tour guides.
Awhum Waterfalls: The stunning looking Awhum waterfall is located at Amaugwe village of Awhum town; it is the result of massive outcrop of granite rock with water cascading over the top forming stream. A section of the waterfall is always warm through the season. According to the locals the water is said to be curative and able of dispersing evil if and wherever sprinkled.
Benue Hills: Situated in the middle belt region of Nigeria, Benue state shares boundaries with Teraba state on the East; Plateau state on the North and EDO state on the west ; and Anambra, Enugu, Cross River States on the South. The entire landmass presents hills of various shades and tourists appeal.
GashhakaGumti National Park: Nigeria's largest national park is not only important as a major watershed but also as a heaven for a rich and exotic assemblage of wildlife. It is located in the mountain regions of North-east Nigeria adjacent to the international border with Cameroon, and immediately to the North of Mambila plateau. It offers the visitors lush forest, wide sweeping grasslands, cool highland plateaus, rugged moody mountains, and abundant wildlife.
Relish your holidays in Nigeria and capture the grandeur of natural beauty in your camera and then transmute those large Photo prints on canvas to eternalize those memories. Make your personal image gallery of your vacations or gift it to your family and friends as a souvenir.
About The Author:
James Anderson is an avid writer. He gives expert advices regarding exploring and capturing Top tourist destinations in Nigeria. Furthermore, how effectively you can transmute your photos into online canvas prints.