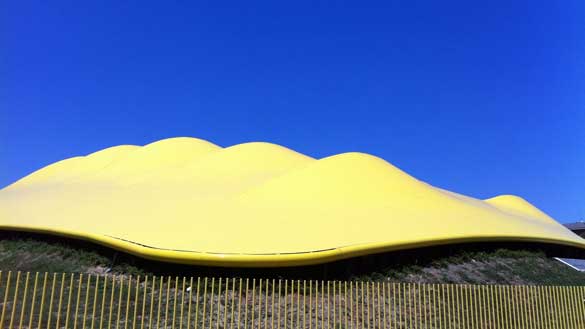 License: Image author owned
Casa Enzo Ferrari Museum is a unique, 6000 square meter building. Located on Via Paolo Ferrari in Modena, Italy the place was officially completed and opened to public on March 10th, 2012. The construction is a work of art with its strikingly modern and glamorous design: covered by a vivid yellow roof shaped in a form of a car hood and packed with galleries of antique cars models and personal belongings of Ferrari's founder – Enzo Ferrari.

Photo Credit: zacke82
Museum Birthplace
The Museum was built in the honor of the legendary Ferrari Company founder. The complex includes a renovated house where Enzo was born in 1898 with some of his authentic belongings which are displayed for visitors. The exhibition galleries chart the company history in photos, objects and video materials. Museum guests are offered a passionate journey tough time, being exposed to collections of sports cars, including brands such as Maserati, Pagani, De Tomaso and more – depending on the current exhibition thematic.
Most of the work behind the Museum construction was done by Ferrar's son, Piero Ferrari, while Mauro Tedeschini is the current Chairman of the Enzo Ferrari Birthplace Foundation. Museum galleries were designed by architects from the London-based Future Systems organization, whose ideas and inspiration for the project were mostly taken from Enzo Ferrari's cars.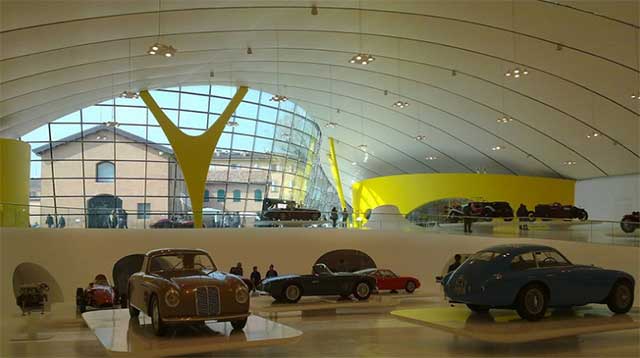 Photo Credit: CiaoMilano
Exhibition Gallery
A demonstration of legendary sports cars brands of the Modenese city area is an everlasting story told in the spacious exhibition halls. The stunning show of different vintage vehicles, photographs and Enzo's Ferrari own relics, gives the spectator a sense of history and provides a background of Ferrar's life as a person, a car-enthusiast and a businessman.
The cars presented on design platforms are changed every once in a while according to the theme of the current display. It is recommended to start the tour from Enzo's residence and then follow to the exhibition rooms.
Besides the gallery halls, the museum contains a conference area, an educational center and a "cinema" where visitors can watch a movie about the sport car industry and innovation related to Modenese motor racing.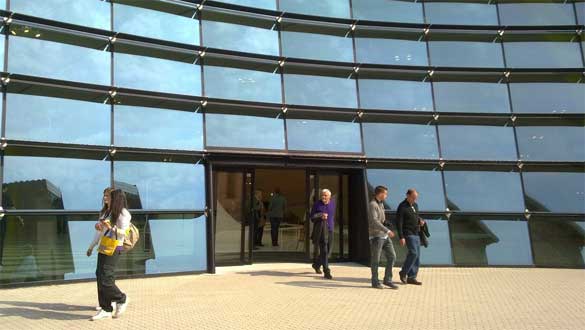 Photo Credit: CiaoMilano
Interesting, Challenging and Emotional
The building attracts attention by its glamorous and innovative look being, in a way, a large-dimensional refection of Enzo's original creations. Merely walking under the curved aluminum roof provokes challenge and emotions – which was what the creators of the complex were after when initially planning its shape and design.
Besides watching the car models, guests are allowed to take pictures in certain areas of the gallery. To delve into different characteristics and features of the track Ferrari has been to during its competition car testing since 1972, you may join car factory and track guided tours – which should be booked two days in advance.
Casa Enzo Museum is also an ideal venue to run exclusive and private events such as trainings, product presentation and corporate celebrations to name a few. Known for its exquisite atmosphere and modern environment, the Museum exhibition halls provide a genuine emotional impact on the participants.
Gabriele Monti is a dedicated travel writer
You may also love reading "How To Discover Australia's Blue Mountains"