I recently had the opportunity to visit the beautiful city of Venice once again. I have had the privilege if seeing this most wonderful of cities on several occasions and I don't believe that anyone could ever tire of the place. The only thing that concerned me was the thought of being accosted by the rather aggressive street hawkers that used to populate the streets but this time there were very few. There appears to have been a clamp down on hawkers in the city as the few that remained were very low key and seemed extremely nervous about being caught by the authorities.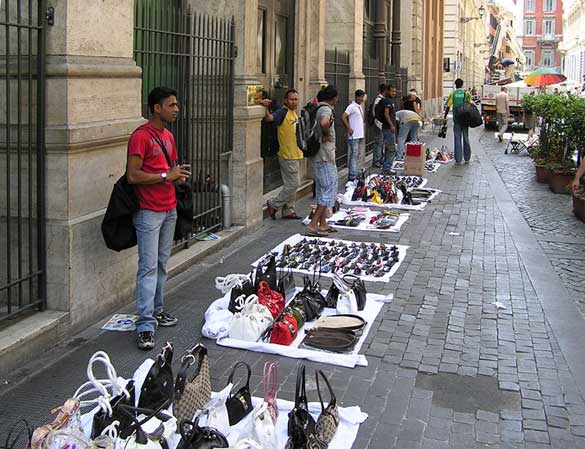 License: Creative Commons image source
Hot Spots
I think we have all got used to hawkers in tourist hot spots peddling fake handbags, hooky watches, rip-off sunglasses and plastic toys. Resorts across the world have been plagued by these people who ruin the atmosphere and cause embarrassment to the travellers. I know that my partner has been pestered to within an inch of his life on the beaches of Goa in India and there were even people selling plastic rubbish from the pavements outside of the parks at Disneyland Paris this year.
Venice
My worst experiences have all been in Italy and so it is great relief to find that something is being done there if nowhere else. I recall one trip to Venice a few years ago when I made the mistake of actually looking at some handbags as I walked past. It wasn't that I was interested in any way it was just that they were just hard to miss as they were obstructing most of the narrow road I was attempting to traverse. The hawker interpreted my brief glance as an Interest in the goods and proceeded to follow me down the road. No matter what I said I couldn't get rid of the guy and before long I had walked across what seemed like half of the city with the beseeching chap in tow. He was now offering me a fake Fendi bag at a fraction of the price he originally quoted but looking at it the bag wasn't even worth the pathetic 20 Euro he was asking. I finally shook him off without having to resort to violence and so he was luckier that the watch seller I had encountered in Rome.
Rome
I was sitting near the Forum one evening enjoying the atmosphere and the beauty of my surroundings when I was approached by a hawker waving a cushion adorned with a variety of clearly dodgy watches. He was asking a pitifully small amount of money for a fake Rolex but I didn't want to know. A polite rebuttal and showing him the designer watch I already owned failed to make him go away. He just kept pestering me until in desperation I started screaming at him to leave. (Leave was not the exact vocabulary I used!). Everyone in the vicinity was now looking at me and then some of the tourists came over and commended me on my actions!
I am happy to say that a recent visit to Rome revealed that the hawkers there have also largely disappeared. The Bridge adjacent to the Castel Sant'Angelo used to be full of them but it was entirely free of traders and all the better for it.
Fake merchandise is sub-standard and does great damage to the genuine brands who pour fortunes into developing and marketing their products. Nobody should buy this rubbish and doing so just encourages the hawkers to pester yet more unfortunate tourists who just want to enjoy their holiday.
Sally Stacey is a keen writer and traveller who is a frequent visitor to Italy.