Even after twenty-five years in Paris, the markets have lost none of their magic. The choice, abundance and sheer quality of the food remain supreme and although it's an essential part of my basic everyday shopping, each market trip is an outing, an experience, and every time I learn something new. Today I'll be talking mostly about markets for food, but there are many other types of markets.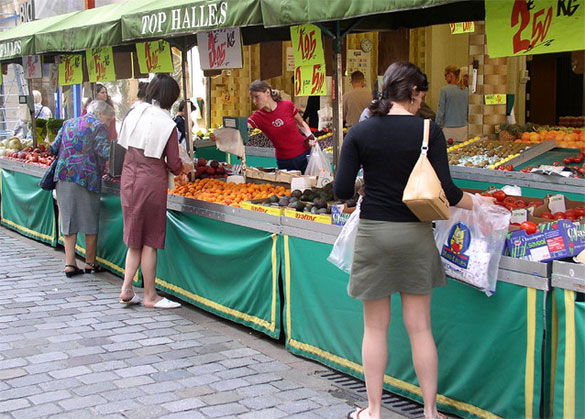 Image source Flickr by James LeBaron squamloon Member since 2005
Marche Saxe Breteuil
When I lived in the sleepy 7th this was my local market, and every week I would wind my way through the very chic ladies in mink, with their little dogs and deadly shopping trolleys, spoilt for choice amongst such amazing produce. This is a spectacular, elegant market, with the Eiffel Tower at one end of the view, Les Invalides at the other, in the heart of the old-money Paris and these people know how to eat – better, they know how to cook. As usual, I learnt so much from simply eavesdropping on conversations while waiting in line, even if a noisy debate did not strike up quite so easily as in other, more animated quartiers. My favourite stall is the apple seller – from Normandy, naturally – who will ask you what you are planning to cook before selling you anything. Do not dare ignore her advice on the three types of apple vital to the success of your humble compote.
Open Thursday through Saturday – Avenue de Saxe – Paris 7th
Marche d'Aligre
Perhaps the trendiest market in Paris, it is nonetheless one of the most thriving and authentic. Film and music industry people mix with locals and families, meaning the market escapes the rather rarefied feel you can get at, say, Raspall or Alma. Open every day except Mondays, the true gastro-chic products (especially charcuterie and oils) are to be found inside the pretty covered Marche Beauvau, while the usual fruit and veg sellers line the rue d'Aligre in front. After the market, the numerous cafes and bistros around (notably the famous wine bar Baron Rouge, with its barrels on the pavement) mean that you can easily spend most of your day here, buying, eating and talking about food.
From Tuesday to Sunday – Place d'Aligre – Paris 12th
Marche President Wilson
Another extremely chic market, although you're more likely to bump into chefs from the nearby luxury hotels than French pop stars. Make sure you come early, as there may only be a handful or two of the rarer produce, and chefs' eyes are sharp (if they haven't been tipped off by the stallholders already). Here, I love buying fresh flowering herbs, and it's my go-to spot for courgette flowers in season. La Boucherie Olivier is renowned, and star fishmonger Jacky Lorenzo satisfies the local luxurious taste for Breton lobster and Mediterranean spider crab. The flowers are particularly sumptuous, and walls of roses, laid flat in squashed bouquets, quickly diminish as the blooms are carried off to the lavish apartments in the area.
Wednesday through Saturday – Avenue du President Wilson, between rue Debrousse and Place d'Iena – Paris 16th
Jules is the editor in chief at Solimartravel.com, a super foodie focused lifestyle blog.