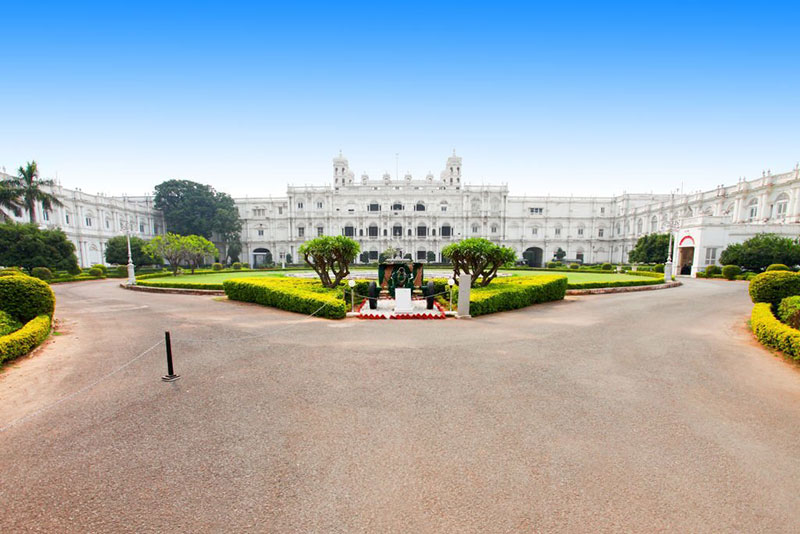 Jai Vilas Palace and Museum: Located in the new town, this luxurious palace belongs to the Scindia family who still lives on one portion of the citadel. The sprawling structure is a combination of the Corinthian, Italian and the Tuscan architectural styles. It has commanding interiors. Altogether 35 rooms of the palace have been transformed into an exotic museum. Among the characteristic collections are a model railway that carried cigars and brandy around the dinning table, a life-size model of Leda, a German bubble car, a Rolls Royce on rails, and Belgian cut-glass furniture.
It was established in 1874 by Jayajirao Scindia, the ruler of the princely state of Gwalior in the British Raj. While the major part of the palace is now the "Jiwajirao Scindia Museum" which opened to the public in 1964, a part of it is still the residence of some of his descendants.
Jai Vilas Palace is a fine example of European architecture. It was designed and built by Sir Michael Filose. It is a combination of architectural styles, the first storey is Tuscan, the second Italian-Doric and the third Corinthian. The area of the Jai Vilas palace is 124,771 square feet and it is known for its large Durbar Hall. The interior of the Durbar Hall is decorated with gilt and gold furnishings and adorned with a huge carpet and gigantic chandeliers. It is 100 feet long, 50 feet wide and 41 feet in height.
The museum preserves the memory of the humble origin of Scindia (spelled in Hindi/Marathi Shinde) from the Kanherkhed village in Maharashtra. The family left its ancestral village in 1726, however it has continued to preserve its Maratha heritage. On special occasions, the Scindia family members still wear the Maratha style (Shineshahi pagdi) turban which uses 60 meters of Chanderi silk, with pointed ends. An exhibit at the museam explains the intricate steps involved in wrapping the special turban.
Guide Map to Jai Vilas Palace and Museum