The magical aura of Gwalior is conjured by the magnificent mementoes of its glorious past. It is a timeless and inimitable appeal. The typical romantic effect of the place comes from the past and present saints, musicians, poets and of course the warrior rulers of the past. This historical city nestles on the northernmost fringe of the central Indian State of Madhya Pradesh.
The headquarters of the Chambal region, Gwalior is the fourth largest urban center of the State. Also referred to as tourist capital of the State, it is a principal educational, cultural, industrial and commercial hub.  During the British raj, Gwalior was one of the five princely states in India to get the 21-gun salute. Then, Gwalior shared the equal political status with Baroda, Hyderabad, Jammu and Kashmir and Mysore.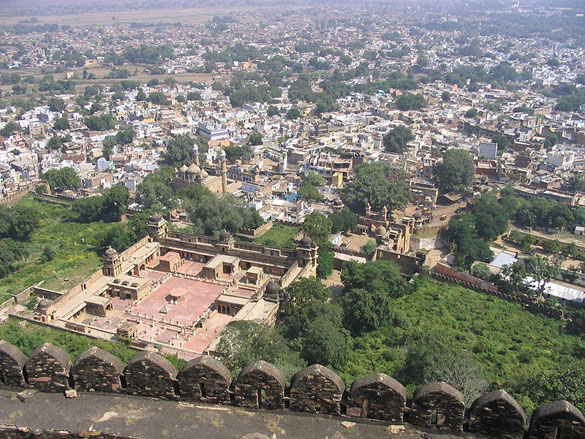 Panoramic view of Gwalior from Fort. Image source wikipedia
Reaching Gwalior: The Means for the Ways
Gwalior is well accessible by road, rail and also air. Let's check them out:
Road: Gwalior is just two hours drive from Agra. The distance between the two places is hardly 120 km. If bus is your choice then proceed to the Idgah Bus Stand – the principal bus terminus — near the Agra Cantonment Station. There you would get private buses as well as those run by both UPSRTC (Uttar Pradesh State Road Transport) and MPSRT (Madhya Pradesh State Road Transport). Gwalior is well connected by roads to a number of main cities of the country including other popular tourist destination spots like Bhopal, Delhi, Indore, Khajuraho and Sanchi.
Please check out the following comparative chart on the distances among the main stoppages on this set of tour (shown in km): Gwalior is situated 327 km from Delhi. Between Agra and Gwalior, the distance is 118 km; between Gwalior and Orchha it is just 120 km; and the distance between Gwalior and Khajuraho — the final stop in this set of itinerary — via Orchha is 298 km. However, the distance between Orchha and Khajuraho is just 178 km.
Rail: The train network to Gwalior is well developed. It is on the principal rail routes between Delhi – Mumbai and Delhi-Chennai. For instance, you can opt for either the Shatabdi Express or the Taj Express. Both provide daily morning services to Gwalior. The Delhi-Gwalior journey in any of these two superfast trains is comfortably short. Gwalior has train connections to several other tourist destination spots across the country like Varanasi in North India or Jaipur in west India or Kolkata in East India and Chennai in South India.
Air: Daily domestic flights are available from Gwalior airport to all the major cities of India like Bhopal, Delhi, Indore and Mumbai as well as to the exotic spots like Khajuraho and Varanasi.
TOURING TIME: The most pleasurable time to visit Gwalior is in the wintry months especially the period from the fag end of October to early March.